Intelligent Transportation & eFreight
Our Intelligent Transportation & eFreight coverage examines topics such as fleet management, goods transportation, mobile resource asset tracking, eFreight, wireless EV charging infrastructures, truck platooning, driverless commercial vehicles, and last mile deliveries. We aim to provide technology implementers with authoritative insight to help improve their competitiveness, efficiency, productivity, and customer satisfaction in the changing core delivery, logistics, and urban freight transport markets.
Featured Research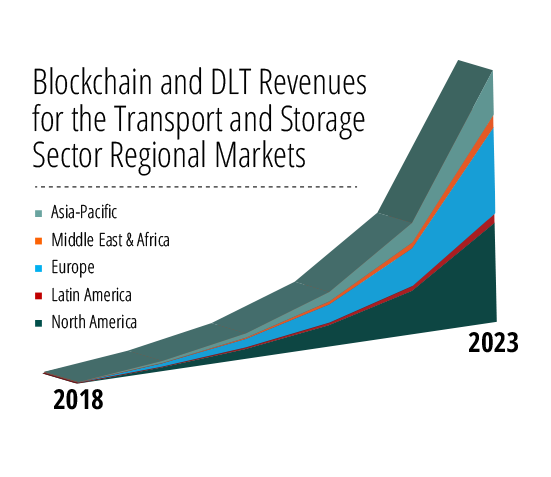 Blockchain in the Supply Chain: Reducing Friction for Faster and More Efficient Logistics
This report looks at emerging use cases for blockchain in the supply chain industry (which includes manufacturing, sourcing, procurement, processing, management, compliance, insurance, logistics, telematics, tracking, monitoring, purchasing, sales and marketing). How does blockchain fit into the increased digitization of the industry and what issues can it solve? As an emergent technology, the focus is on proof of concepts and pilots currently being run by ecosystem players, as well as evaluation of market maturity, potential revenue models, startup dynamics, and industry alliances.
Continue
Executive Foresights
1Q 2019
Amazon is driving at least 49% of the United States' e-commerce sales. Notably, the company recently updated wording in its annual 10-K to add companies that provide "transportation and logistics services" and detail "intense competition" from a number of companies.
Insights
4Q 2017
It is believed that of the 612,000 bridges in the United States, more than 130,000 – over 21% - are either functionally obsolete or structurally deficient. Eighty-seven of these bridges are in Palm Beach County, Florida and the full list even includes iconic infrastructures such as the Brooklyn Bridge. Over one in four of the bridges are 50 years old or more, without having had any major reconstruction. About 55,000 are estimated to require significant repairs and unfortunately, these bridges are crossed 185 million times per day. At the current rate, it will take about two decades to repair just the bridges currently identified.
Analyst Support
Every client is assigned a key member of our research team, based on their organization's needs and goals. And, an unlimited number of Analyst Inquiry calls are available to answer your specific questions.