James Hodgson
Research Focus
James Hodgson, Senior Analyst at ABI Research, conducts research relating to the field of autonomous driving and smart mobility, with a focus primarily on quantitative forecasting and analysis in the areas of advanced driver assistance systems (ADAS), autonomous driving, and connected infotainment. James also writes reports on the transformative effect of automotive technologies on personal mobility and ecosystem dynamics.
Education
James graduated from Cardiff University with a Bachelor's degree in Economics, where he specialized in the areas of econometric analysis and statistical forecasting.
Blogs by James Hodgson
James Hodgson in the News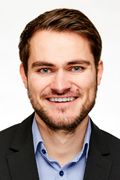 James Hodgson
Senior Analyst
Location
Wellingborough, U.K.
Follow James
Topics Covered
Autonomous Vehicles, Smart Mobility, Advanced Driver Assistance Systems, Connected Infotainment, Connected Cars, Ridesharing
Contributes To