Launched on March 29, 2021, IDEMIA has delivered its Mobile ID offering to the state of Arizona, alongside the Arizona Department of Transportation (ADOT) Motor Vehicle Division. The result is that residents of Arizona are now able to use their personal smartphone to verify their driver's license and ID card information in a secure fashion.
Registered users can unlock up to five pieces of premium content each month.
| | |
| --- | --- |
| Arizona and Utah Join the mDL Wave | NEWS |
---
Launched on March 29, 2021, IDEMIA has delivered its Mobile ID offering to the state of Arizona, alongside the Arizona Department of Transportation (ADOT) Motor Vehicle Division. The result is that residents of Arizona are now able to use their personal smartphone to verify their driver's license and ID card information in a secure fashion.
The Mobile ID solution provides physical ID verification as well as streamlining the online ID verification process, enabling easier access to services such as transferring a vehicle title. The primary goal for the project is to simplify processes for the citizen, lower the risk of document and identity-related fraudulent activity, and improve the overall end-user experience. This will make Arizona the third state to deploy IDEMIA's Mobile ID platform, along with Delaware and Oklahoma, with the intention to roll out further over the next few years.
In a similar vein, the Utah Driver License Division (DLD) has launched a mobile driver's license (mDL) pilot, offering driver's licenses and ID cards on mobile phones. The aim is to increase privacy and security for government-issued citizen credentials and provide a digitized platform for streamlined access to services. In the case of the Utah mDL, the tender went to GET Group North America alongside its technology partner Scytáles, which have developed the GET Mobile ID. This takes the form of an ISO 18013-5-compliant application to store a standard ID card or driver's license on a citizen's personal smartphone. As part of the objective of simplifying the tap or scan process, stored credentials can be verified and accepted worldwide using any ISO 18013-5-compliant reader.
| | |
| --- | --- |
| The U.S. Market for mDLs | IMPACT |
---
The usage of mobile platforms for driver's licenses in the United States originated in 2016, with Colorado announcing the first of its kind in the region with the Digital Driver's License solution of Gemalto, now part of Thales. Shortly after, Gemalto launched state pilots in Idaho, Colorado, Maryland, Wyoming, and Washington, D.C., using a NIST grant to kick-off the drive towards mDLs in the North American region. Once the physical credential has been issued through the standardized process at the state DMV, citizens who opted into the pilot then installed the DigiDL app on their smartphones, thus placing the physical document onto the mobile device.
More recently, Oklahoma, Arkansas, Iowa, and Florida have also begun pilots to test the use of the mobile form factor to store and manage their driver's licenses with a good level of initial uptake owing to the increased levels of user convenience. Furthermore, New Jersey and Texas state legislatures have already made a signal of intent by passing laws that indicate digital identities will undergo pilots over the next few years.
The state of Louisiana has launched the LA Wallet app to provide digital driver's license storage for the purpose of complying with law enforcement roadside checks and identity verification in retail. It is worth noting that the digital driver's license remains a companion to the physical credential, as tends to be the case when such a solution is deployed. Indeed, we are yet to see a mobile credential that is truly independent of the physical form factor in the region.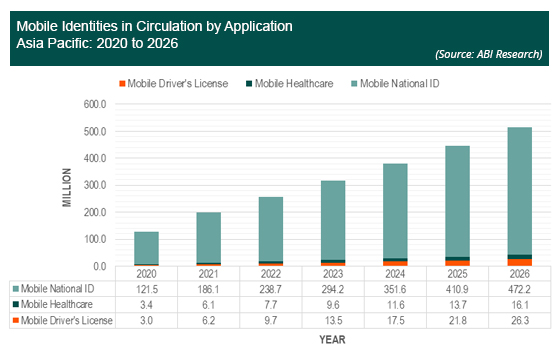 As can be seen from Table 1, the trend in mDLs for North America will increase sharply, rising from 7.4 million mobile identities in circulation to more than 50 million by 2025. As more pilots begin to open in other states across the United States, this will lead to strong uptake in the application, especially in a post-COVID world.
| | |
| --- | --- |
| Global Perspective for mDLs | RECOMMENDATIONS |
---
One aggregating factor that works in the favor of a mobile companion to a physical document, for any application, is that the global COVID-19 pandemic has forced governments to think about the usage of physical credentials in an increasingly touchless world. The move to pivot physical identity documents away from the material to the digitized is a move that has been long overdue and will continue to be seen moving into the next few years as governments look to create a contact-free ecosystem in the G2C and C2G arena while also transferring in-person services to online e-government platforms to reduce in-person contact and reduce risk of transmissions.
A number of inhibitors that have plagued the mobile identities market are fast being overcome by identity solutions providers such as Thales, IDEMIA, G+D, Veridos, etc.
Credential management and display in areas of low network coverage are being overcome through developments in having documents available for roadside checks, etc., while offline, then enabling real-time updates once connection is re-established.
Accessibility to the stored identity while on low or no battery—advances in low-power technology have been made to enable citizens to comply with identity checks even when the smartphone has insufficient power to boot the installed OS. However, as this is still somewhat in development, ABI Research believes the smartphone will remain a companion, at least in the short term, as an alternative form of identity must always be available.
Issuance of roadside document readers to law enforcement officers means that identity privacy is retained in the hands of the citizen. Where before the citizen may have had to hand over their mobile device to have their identity verified, such a process can now be performed with the citizen retaining possession of their smartphone, while also achieving the goal of migrating to a touchless experience.
As market pain points continue to be addressed, the mobile and digital identities market will continue to progress, with a digital driver's license in Brazil launching now in 2022, and continued rollout for the Argentinian mobile ID, which is seeing issuance accelerate through the COVID-19 pandemic. There has also been further movement in Ontario, Canada, with the government having launched an online survey to gather feedback on a government-issued digital ID for public- and private-sector services.
Similarly, the government of Australia will begin development of the country's free digital identity program over 1H 2021, after having revealed last year's draft legislation to make the current privacy restrictions law and facilitate the use of biometrics technology. For the United Kingdom, while a physical national ID card has been rejected thus far, GOV.UK Verify is finding some traction in providing citizens with a digital identity for access to e-government services. However, there is also speculation that the U.K. government will scrap Verify in favor of an alternative digital identity solution due to spiraling implementation costs.