After an eventful couple of years, Open RAN is helping the mobile industry to overcome market disruptions due to the COVID-19 pandemic, geopolitical situation, and energy crisis. Open RAN has started to gain commercial interest among mobile and chipset vendors, operators, and cloud providers. This ABI Insight highlights some recent developments related to Open Radio Access Network (RAN) technology and provides some key recommendations to expand the Open RAN ecosystem toward 6G networks.
Registered users can unlock up to five pieces of premium content each month.
| | |
| --- | --- |
| Is Open RAN Becoming a Commercial Reality? | NEWS |
---
After extensive research, Proofs of Concept (PoCs), trials, and certification processes that took almost a half-decade since the O-RAN Alliance was established in 2018, Open Radio Access Network (RAN) is now slowly becoming a commercial reality. The Open RAN ecosystem and supply chain started to become established during 2023 with several mobile operators, along with mobile vendors, having started small-scale commercial Open RAN deployments. Several equipment vendors have implemented organic and inorganic growth strategies by launching new products, software upgrades, partnerships, and Mergers and Acquisitions (M&A) to broaden their Open RAN offerings in the market. These include Mavenir, Nokia, NEC Corporation, Ericsson, Samsung, Fujitsu, Parallel Wireless, Rakuten, etc. On top of that, all major chipset providers (Intel, Qualcomm, NVIDIA, Marvell, etc.) have joined this competition by announcing several products and partnerships with major mobile vendors and operators.
For example, Vodafone and Nokia partnered to run a commercial 5G Open RAN pilot in Italy. During early 2023, Vodafone started the first deployment of Open RAN in an urban environment in the United Kingdom. DISH Wireless recently launched an Open Virtualized RAN (vRAN) 5G network along with South Korean mobile vendor Samsung to provide an open and interoperable cloud-native network to 70% of the total U.S. population. Samsung supplied 5G O-RAN Alliance-compliant Radio Units (RUs) and vRAN software solutions. Verizon, another big Open RAN supporter, installed around 10,000 Open RAN sites across the United States, with a goal of more than 20,000 sites by 2025. Mavenir, one of the leading innovators in the Open RAN domain has helped several mobile operators deploy Open RAN in brownfield environments, including Airtel, Deutsche Telekom, Virgin Mobile/O2, and Triangle Communications. NEC, another leading Open RAN company helped Vodafone UK, Telefónica, Deutsche Telekom, Rakuten Mobile, and NTT DOCOMO to deploy Open RAN-based solutions in brownfield networks.
| | |
| --- | --- |
| What Are the Current Open RAN Market Dynamics? | IMPACT |
---
Considering the ongoing paradigm shift from traditional RAN toward vRAN and cloud-native Open RAN, the mobile industry is adopting O-RAN Alliance standards and has started to compete in the market. ABI Research concludes that 2023 has proven to be a year full of advanced Open RAN developments. The Open RAN market trends during 2023 are summarized as follows:
Competition in Open RAN Chipset Market: The chipset market for Open RAN is migrating from custom-built Baseband Units (BBUs) to Custom-off-the-Shelf (COTS) hardware. The industry has witnessed constructive competition over silicon technology for Open RAN, especially for PHY-Layer (L1) accelerations with several companies showing interest in gaining mobile vendor and operators partnerships to expand their Open RAN ecosystems. The concept of hardware acceleration is being adopted by several chipset vendors, including Intel (vRAN Boost), Qualcomm (X100 Inline Acceleration Card), Marvell (OCTEON 10 Fusion), and NVIDIA (Grace Hopper Super Chip).
O-RAN Alliance Functional Split for mMIMO: The O-RAN Alliance is still in the process of defining an optimal functional split for Uplink (UL) Massive Multiple Input, Multiple Output (mMIMO). The O-RAN Alliance has not reached a conclusion to freeze the architecture for UL mMIMO. This is certainly causing delays in the development of O-RAN Alliance-compliant mMIMO radios and there are concerns about when compatible equipment will become available for commercial large-scale deployment. In terms of equipment suppliers, Uplink Performance Improvement (ULPI) requires updated RU and Distributed Unit (DU) silicon, software, and multiple iterations of interoperability testing before commercial deployment. Although it is expected that ULPI will be finalized by 1H 2024, it will be interesting to see if the O-RAN Alliance compromises on RU complexity over Fronthaul (FH) interface or vice versa, and if the industry will wait for the UPLI standardization or if it opts for existing mMIMO specifications.
Open RAN Integration and Testing at Full Flow: During 2023, the industry witnessed some major developments related to Open RAN testing and integration. Mobile vendors, in collaboration with operators, cloud providers, and chipset providers, conducted several trials and integration testing in live commercial deployments to test multi-vendor interoperability. While by no means an exhaustive list, Table 1 summarizes some of the major contributions.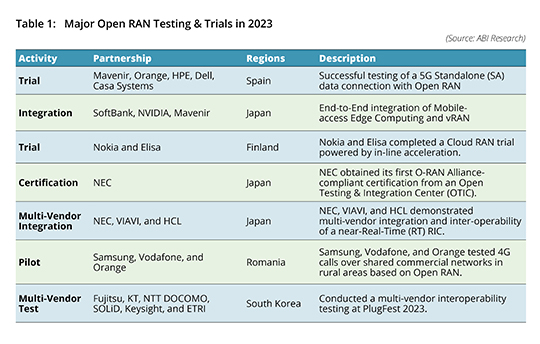 | | |
| --- | --- |
| A Way Forward for Open RAN | RECOMMENDATIONS |
---
There is no doubt that the Open RAN ecosystem is developing, and the industry is already witnessing a constructive competition between mobile vendors, operators, and chipset and cloud providers, with several ongoing partnerships that are helping Open RAN become a commercial reality. However, there is still long way to go for Open RAN to prove its full potential as an E2E solution by combining all the RAN components, including the Service Management and Orchestration (SMO), Centralized Unit (CU), DU, RIC, and RU, and their integration with core networks and other existing technologies, including MEC, Network Slicing (NS) and Self-Organizing Networks (SONs). ABI Research believes that Open RAN is not restricted to any particular generation of mobile networks; instead, the industry should expect to observe implementations across different "Gs" and consider Open RAN as a step forward toward the next generations of mobile networks. However, there are still other promising features that need further development and full integration with Open RAN.
RIC as an Accelerator for Open RAN
A technology gap still exists between legacy RAN and Open RAN in terms of higher order and large-scale mMIMO deployments. small-scale Open RAN deployments have already started in 2023 and large-scale brownfield deployments are expected to kick off during 1H 2024. However, this will happen without RIC—the "brain" of open RAN—and 'the game changer' that can bring further advantages, including automation, agility, and efficiency for mobile operators to reduce the Total Cost of Ownership (TCO). Therefore, maturing the RIC programmability is critically important to help mobile operators fulfill their network requirements. There have been significant efforts made by the O-RAN Alliance to specify the O1, O2, A1 and E2 interfaces, but more work is needed across various domains of the RIC ecosystem such as 1) the integration of multiple RICs and scalability; 2) testing and integration of rApps and xApps in multi-vendor environments; 3) conflict mitigation between xApps/rApps; and 4) security.
Therefore, the industry needs to start developing the RIC ecosystem to enable the full potential of Open RAN architecture. Few vendors have already developed their own versions of a RIC, but significant collaboration is needed to avoid unbalanced and incompatible development of technology. ABI Research recommends that mobile vendors collaborate and follow a holistic approach toward RIC development, testing, and integration. Most importantly, they need to collaborate to define the onboarding process for third-party xApps in multi-vendor use cases where security needs to be taken care of very carefully to avoid any potential security threats to the network. ABI Research believes that the RIC will be a make-or-break feature for Open RAN to become a 6G product.