With the integration of 5G and cloud technology, telecom companies need to shift their business approaches in order to keep with the times.
| | |
| --- | --- |
| Telecom Technology Economics | NEWS |
---
The telecommunications industry is probing new growth avenues that look beyond where the money is in the value chain (e.g., 3G, 4G), to where it will be in the years to come (e.g., 5G, cloud platforms, etc.). With 3G and 4G networks, commercial arrangements revolved around a CAPEX purchase business model. Communications Service Providers (CSPs) pay a specific price to own an asset. CAPEX models have a set price and, once the deal is agreed upon, vendors are guaranteed an upfront payment at the point of signing a contract. In a CAPEX model, the supply side has one stress point: winning the deal. The risk of implementing the purchased technology falls to CSPs. A key point to note is that, in general, by the time a product is adopted and used, the bulk of the budget has already been spent.
On the other hand, 5G networks are inherently predicated on software architectures. This new world of software is smaller, more focused, highly modular, and available on better economics in terms of what it offers for stakeholders. Software enables new 'value-based' business models which are characterised by different economic principles and utility on offer. For example, software platforms point to a commercial approach that favors technology access as opposed to technology ownership. This marks a departure from today's purchase pattern whereby a buyer obtains a product in a pay-up-front sales model based on mass production, standardized, and repeatable transactions. Increasingly, that sales model will need to be complemented with consumption economics that point toward a recurring revenue approach. This approach is more consistent, predictable, and, oftentimes, tailored to individual buyers.
| | |
| --- | --- |
| Decoding Consumption Economics | IMPACT |
---
5G and, broadly speaking, software platforms lead to the consumerization of telecom technologies. Today's commercial arrangements are predicated on high switching costs, relatively low volume, high price, and a pay-up-front model. Contrastingly, commercial models in a 5G and cloud world will be associated with low switching costs, high volumes, low prices, and a pay-as-you-go model. This newly created nimbleness and speed allows room for innovation and commercial growth. But capturing that growth will not be without challenges. Specifically, in addition to 'masters of complexity' business models, vendors like Ericsson, Huawei, Nokia, and ZTE need to come to grips with becoming 'masters of consumption' business models. In a cloud and software world, the new rules of telecom technology increasingly revolve around consumption economics. In that world, there is not an upfront payment at the contract signing as it is the case with CAPEX business models.
Businesses built on consumption economics typically invest a significant amount of capital upfront. Then, they try to make up with volume because of a superior cost structure that is associated with software. The marginal cost of producing an extra copy is very small. So as suppliers, technology providers still need to build the technology to win a deal. Investment in research and development, marketing, and sales cycle execution need to be in place. In that respect, there is not much difference from existing pay-up-front commercial models. The difference with consumption-based models, however, is that the risk of making a transaction into a fruitful source of revenue is on the technology provider. They reap rewards from their investment only if they take the right steps to ensure the customer is successful. This is Consumption Economics, also detailed in the table below.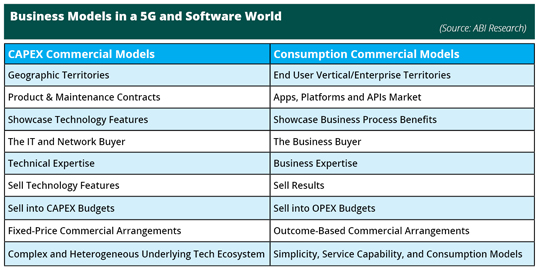 With consumption services, technology ownership makes way for technology access. Compute as-a-service complements compute as-a-product. In fact, providing inexpensive access to products is the chief reason the likes of Ericsson, Huawei, Nokia, and ZTE are increasingly utilizing public clouds platforms. What is necessary to succeed with consumption services is an intermediary service layer to interact with relatively centralized enterprise buyers. These buyers have different expectations from consumers for product roadmap visibility, customer support, and pricing. The technical attributes of a product are only one piece of what matters to success. Just as important are customization, support, and the ability to sell and drive volume product adoption. Figuring out how to play a part in proactively and systematically driving micro-transactions will become a core source of new value creation.
| | |
| --- | --- |
| Learn to Love Micro-transactions | RECOMMENDATIONS |
---
At a high level of abstraction, creating micro-transactions is about the e-commercialization of (telecom) technology. The skills required to sell consumption-based products are different from those that drive CAPEX-centric models. For example, current sales practices must be complemented with new sales processes that revolve around recurring transactions—extra compute (and increasingly, network) capacity, more storage, more modules, etc. Only when a user becomes a consumer does the provider earn the right to bill for them. Further, moving from CAPEX-heavy, mega-transactions to micro-transactions—and value/outcome-based arrangements—requires a much stronger focus on building long-term account relationships. Marketing executives, technical, and service teams need to learn how to assert control over tiny, but easily missed, revenue opportunities. This is a different mentality from pay up-front models and transaction-based sales.
Moreover, every enterprise engagement is a custom job. Consequently, CSPs will need to establish business models that are governed by different key performance indicators (KPIs), both technical and commercial. Those KPIs need to vary in line with size and location of the customer. This stands in contrast with product-led solutions that fit well with mass-market, country-specific/region-specific subscriber commercial models. Value-based engagements will take center stage in the coming years. However, the shift from transaction-based to value-based models will not come without challenges. First, CSPs must change the dialogue from Average Revenue per User (ARPU), bits, and units, to outcomes tailored to circumstances of enterprise verticals. CSPs will need to own the interaction point with the client. In other words, in addition to selling technology features, CSPs should make a material and positive impact on the recipient of the service to create long-term value.
Lastly, the net impact of 5G and cloud on solution suppliers is this: in the long term, they will potentially obtain their margin less from perpetual license business, hardware, and hardware-enabled services, and more from cloud-like commercial models, consulting, and management services. To that end, vendors must acknowledge that 'tis the time for consumption-based economics in telecoms. They should change some of their workflows from the "old" to the "new". The primary responsibility for making that happen lies with them. That includes enhancing their "value add" by complementing their technical expertise with business expertise. Further, they must obtain vertical industry expertise (e.g., manufacturing), new functional expertise (e.g., sales, marketing, accounting), solution design and consulting capabilities, business process improvement, and change management capabilities.