As countries continue to enter and exit lockdowns and experience disruption to everyday life, the passport market has seen a sharp downturn as international travel opportunities remain largely reduced and inconsistent. At a more granular perspective, the effect of COVID-19 on the global passport market has been twofold
Registered users can unlock up to five pieces of premium content each month.
| | |
| --- | --- |
| The COVID-19 Impact on the Passport Market | NEWS |
---
As countries continue to enter and exit lockdowns and experience disruption to everyday life, the passport market has seen a sharp downturn as international travel opportunities remain largely reduced and inconsistent. At a more granular perspective, the effect of COVID-19 on the global passport market has been twofold:
First, significant travel restrictions and closures of borders have limited the use cases of the passport to an in-country form of identification. For countries that already use another credential—such as a national ID and driver's license—as their primary ID format, the passport is struggling to find traction especially as it relates to replacement rates owing to a high end-user cost.
Second, those citizens who have elected to renew their passports throughout 2020 will meet significant delays in the credential issuance due to closures of enrollment and personalization centers. In an effort to reduce levels of contact and enable social distancing, many governments have sought to limit or close nonessential offices and centers, and this includes departments that contain credential personalization. As such, passport renewals will experience a backlog because personalization centers will be issuing pre-requested passports before issuing newer replacements once lockdowns begin to fully lift.
These continued effects will mean that 2021 issuance levels are unlikely to reach pre-COVID-19 levels, and so the disruption to passport issuance will continue into the new year. It is also important to consider that governments are still looking toward upgrades as it relates to the ID3 form factor; COVID-19 has postponed these projects until the coming years, however.
| | |
| --- | --- |
| Moving Beyond COVID-19 with Compelling Personalization Solutions | IMPACT |
---
One such upgrade is that of the migration from a paper to a polycarbonate data page and the use of contemporary personalization techniques such as color laser. Fraudulent replication and tampering of passports present a considerable threat to a nation's borders. This undermines the trust that a government builds with its citizens regarding its credentials being secure and also exacerbates the threat of cross-border criminal activity, which was cited as the primary driver for the Ukrainian passport migration to polycarbonate in 2015.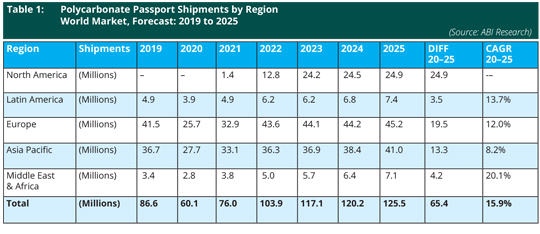 As the world moves toward a majority polycarbonate data page for the passport, the tipping point will largely be decided by passport heavy countries such as the United States (see Table 1). Since 2016, the United States has implied a migration to a polycarbonate data page, yet as of 2020, it still is issuing paper passports. Interestingly, there has been significant movement in the United States in the driver's license market as the Real ID Act is driving state legislatures to issue polycarbonate or Teslin licenses in an effort to increase physical document security. However, US passports are still lagging behind the rest of the world. It is likely a migration will take place once the COVID-19 pandemic passes, and this will tip the global passport scales to a majority polycarbonate data page.
The move toward polycarbonate has resulted in a focus on color-laser personalization as the most secure personalization technique for a polycarbonate data page; previously, laser engraving images onto a polycarbonate document resulted only in a black and white image. While displayed at a high resolution, the lack of color presented an opportunity to innovative smart card vendors. Now, a number of key ecosystem players have developed the technology to laser engrave a high-resolution color image onto a polycarbonate document.
| | |
| --- | --- |
| Laser-Focused Smart Card Vendors and Issuance Models | RECOMMENDATIONS |
---
Currently, three primary solutions of color-laser personalization of polycarbonate are leading the way: Thales's Color Laser Shield, IDEMIA's LASINK, and Veridos's CLIP ID. Developments in these solutions as they relate to scalability, modularity, and reduction of Average Selling Price (ASP) to increase accessibility to emerging economies and integration with pre-integrated personalization infrastructure will be the key to fully unlocking the polycarbonate opportunity for passports. On the other hand, if the solution involves the use of a pre-prepared booklet, some governments may be reluctant to be tied to one card vendor for an extended period of time; some governments will not permit pre-prepared cards or documents for security reasons and will opt for entirely blank credentials.
It is also critical to consider that at the present, a fully centralized color-laser solution operates at an extremely high price point, placing it out of reach of most economies as a personalization solution. It is likely this will mean the short-term opportunity to color-laser personalization will be somewhat limited to desktop and remote issuance, with centralized personalization becoming a growing opportunity as developments in these solutions result in decreased price points. One solution, utilized in the German passport, is that of black and white laser engraving coupled with color printing on the newly designated area. This comprises a hybrid solution which is a good offering for countries that wish to use laser-engraving without relying on a pre-prepared booklet or card and at a more accessible price-point
The steady global transition to a polycarbonate passport data page will continue to grow moving toward the end of the forecast period (ending in 2025) and will be aggregated by developments in laser and color laser personalization technologies and making these solutions more accessible from a price-point and installation standpoint.
However, keeping in mind that the passport is an optional credential with a high end-user cost and, in the case of most countries, sports an expiry of 10 years, it is unlikely that citizens will replace paper passports with polycarbonate until they reach expiration. This means a transition can typically take up to a decade before significant issuance levels are seen.