| | |
| --- | --- |
| eSIM and Now the Chip Shortage - Is this Creating the Perfect Storm? | NEWS |
---
Given the drive towards further digitization and the rise of the embedded-SIM (eSIM), alongside challenging market conditions created by the chip shortage, questions are being asked related to the future fate of the traditional removeable SIM form-factor.
Although the chip shortage is a new market challenge, the integration of eSIM technology into devices has been around for many years. While the eSIM has been on a significant growth trajectory, it is fair to say that the removeable SIM form-factor is yet to experience the impact from the eSIM.
Today the market is presented with a combination of short- and longer-term challenges, arguably creating the perfect market disruption storm and how market vendors and ecosystem players react today will define how they perform in the future.
| | |
| --- | --- |
| What Will Happen to the Removeable SIM Card? | IMPACT |
---
Table One outlines ABI Research's forecast expectations covering both the removable and eSIM form-factors.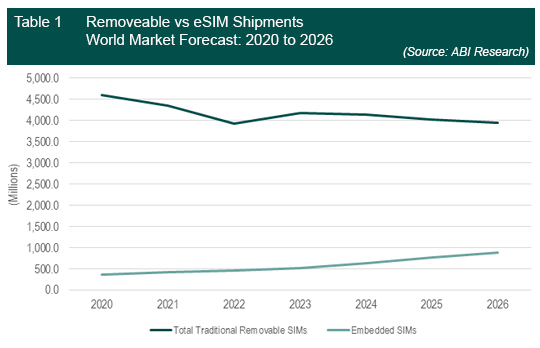 Forecast Expectations:
You must be a subscriber to view this ABI Insight.
To find out more about subscribing contact a representative about purchasing options.