Newcomer China Broadcasting Network is pairing with China Mobile to set itself up for success in the emerging 5G market.
Registered users can unlock up to five pieces of premium content each month.
| | |
| --- | --- |
| 5G Network Expected to Reach Nationwide Coverage Within Two Years | NEWS |
---
China's newest entrant in the mobile operator market, China Broadcasting Network (CBN), is collaborating with China Mobile to deploy 400,000 5G base stations in the 700 MHz band (2x30 MHz) this year. The investment costs for network construction, renovation, and expansion would be shared equally by the two carriers. China Mobile would be providing operation, maintenance, and backhaul services, and CBN would be charged upon an agreed fee. CBN's 5G SA commercial services started in May 2020. By leveraging China Mobile's existing radio access network investments and knowledge, as well as the incumbent's 2.6 GHz network, it allows CBN to deploy its commercial 5G network more efficiently. The mobile operator plans to deploy its services domestically, spanning across 16 cities, including Shanghai and Beijing, and has stated that its network would have a particular focus on audio-visual multicast and unicast services to cater to customers that also subscribe to its cable TV service. Through the shared radio access network infrastructure, China Mobile is able to augment its coverage using fewer additional base stations (using CBN's 700 MHz-enabled base-stations), compared to China Mobile's existing 2.6 GHz network.
| | |
| --- | --- |
| Development of New 5G Services | IMPACT |
---
Lower frequency bands are ideal to secure a larger coverage and allow for better building penetration. As a result, it would significantly bring China closer to its goal of attaining full 5G network coverage in urban and rural areas. CBN estimates the number of 5G base stations could be reduced by up to about 80% by using the 700 MHz frequency band. CBN further stated that it estimated it would have needed 6 million base stations in the 3.5 GHz band.
The following diagram shows the spectrum allocation in China per operator.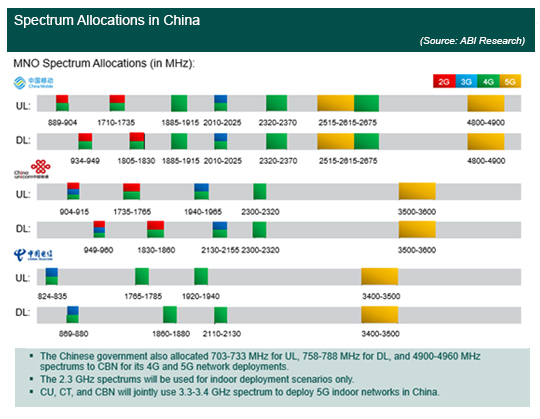 With the extensive coverage provided by its 5G network, CBN is looking to provide differentiated services by rolling out mobile communication, wireless TV, and innovative media, and its existing cable TV programming content. As the only authorized operator to provide nationwide cable TV programming, CBN intends to proactively adopt 5G NR MBS (Multicast/Broadcasting Services). The introduction of 5G NR MBS allows for new interactive video broadcasting services to be received by all kinds of smart devices and is not limited to TV. It would facilitate a more resource-efficient form of transmission to multiple users. 5G NR MBS provides flexible servicing capabilities that allows for smooth transitions between multicast and unicast services. CBN could deploy broadcast and multicast services in multiple geographic locations, which could create opportunities to expand new multimedia broadcast services for emergency broadcast and public safety, (i.e., pandemic announcements and disaster warnings). 5G NR MBS can be deployed in a number of scenarios, such as metro hotspots or remote regions. Additional 5G NR MBS features include INACTIVE/IDLE state, a no-SIM card-based broadcast content access, where users can receive CBN's services through its Free-to-Air mode.
5G NR MBS would allow all 5G terminals to watch digital TV in 5G mode without having to worry significant impact on the cellular network's data traffic levels. For example, 5G NR MBS could provide end users with uninterrupted 5G TV and broadcast services without the need to switch to a traditional TV or cable TV set-up.
The following diagram shows how the CBN connects users through its unified core network and RAN.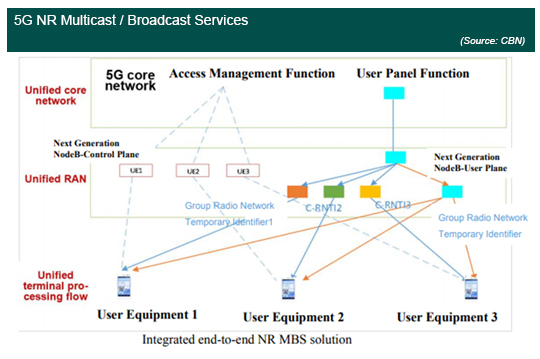 With maximum coverage, CBN could then converge emerging new and traditional media by performing content aggregation and provide exclusive and targeted services to its array of customer segments, such as household and individual customers, and on different devices like cellphone/TV/tablet/laptop/smart devices.
| | |
| --- | --- |
| Speed Up Deployment and Trials of 5G NR Services | RECOMMENDATIONS |
---
Since 2020, CBN has been engaged in the joint development of a 5G NR MBS system solution with industry partners like Huawei, Datang, ZTE, Nokia, and Ericsson. At present, there are reportedly 111 models of 700 MHz 5G mobile phone terminals, 28 customer premise equipment (CPE) devices, 13 modules, and 3 notebooks models. In addition, China is expected is to reach 739 million 5G subscribers by 2025, which would nearly make up 40% of the global 5G subscriber market. This presents vast opportunities in term of 5G differentiated services such as 5G NR broadcasting.
CBN intends to expand its 5G NR MBS service to not just smartphones and tablets, but also to smart cars and smart wearable devices. CBN has aspirations to expand its broadcasting and multicasting functions, to immersive, interactive videos, and Extended Reality (XR). The added competition from CBN is expected to accelerate 5G adoption in China. 5G subscriptions is forecasted to reach 739 million 5G subscribers by 2025, which would nearly make up 40% of the global 5G subscriptions. Many operators around the world are likely to be watching CBN closely to see if CBN's 5G NR MBS strategy helps the operator to secure traction in a very competitive market-place. Questions were raised on whether the new entrant could build up a viable business to compete with the incumbents. However, the collaboration with China Mobile is a tactical strategy for CBN to avoid substantial capital expenditure, despite having to manage high operating costs. In addition, with backings from the state National Radio and TV Administration, Alibaba, and State Grid, CBN's 5G NR MBS has the potential to be a success.