The Average Selling Price (ASP) of Ultrabooks and tablets declined by 7.8% in 2014, as the market matured and commoditized, allowing these devices to become more affordable in all markets. According to market intelligence firm ABI Research, the average weeks of household income needed to buy a tablet or Ultrabook both declined by approximately 30% YoY; making these devices more affordable to a wider range of consumers.
"Across 22 different countries between 2013 and 2014, there was an 8.5% decline for the ASP of tablets and 7.1% for Ultrabooks," says Research Analyst Stephanie Van Vactor. "This decline is allowing these devices to reach a larger audience in a wider range of countries." Although growth is slowing for both these types of devices, affordability could help prevent a drastic decline in sales.
The affordability of personal technology devices is strongest in many mature markets, such as the United States, Japan, and Germany, primarily due to the higher household income. However, ABI Research highlights that Chile experienced the largest decline in ASP, 56% for both tablets and Ultrabooks combined; tablets experienced the largest decline at 70.3%, due to the increase in selection and competition caused by lower-end devices entering the market between 2013 and 2014. In contrast, India experienced the largest increase in ASP between 2013 and 2014, at an average of 22% for both tablets and Ultrabooks; tablets alone experienced an increase of 34.5%, due to the surge of an e-commerce presence, Apple products, and mid-tiered devices.
As shown in Chart 1, the most noticeable change in affordability for weeks to buy for Ultrabooks and tablets occurred in Indonesia. In 2013, ABI Research's data shows that 11 weeks of income were needed to purchase an Ultrabook and nearly four weeks for tablets. In 2014, the weeks of income needed to purchase an Ultrabook declined by 47%, dropping to 5.9 weeks, and for tablets weeks of income declined by 60%, dropping to 1.5 weeks. "Partly due to the increase in models and price points in e-commerce, Indonesia, like many other developing markets, is a good example of the commoditizing of these devices," continues Van Vactor. "Market maturation will continue this effect through the next year, especially as competition increases and affordability continues to prosper as a result." Over the next year, competition will continue to surge and ASPs will continue to decline.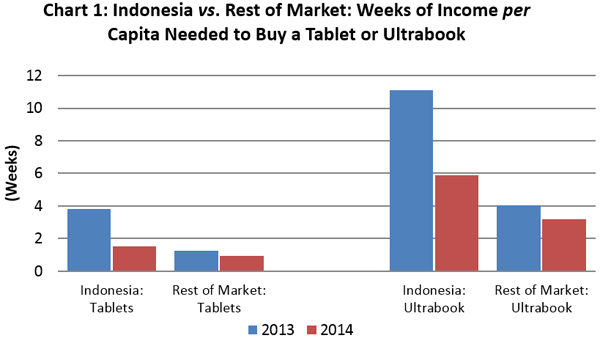 These findings are part of ABI Research's Media Tablets, Ultrabooks and eReaders Market Research.
ABI Research provides in-depth analysis and quantitative forecasting of trends in global connectivity and other emerging technologies. From offices in North America, Europe and Asia, ABI Research's worldwide team of experts advises thousands of decision makers through 70+ research and advisory services. Est. 1990. For more information visit www.abiresearch.com, or call +1.516.624.2500.
About ABI Research
ABI Research is a global technology intelligence firm delivering actionable research and strategic guidance to technology leaders, innovators, and decision makers around the world. Our research focuses on the transformative technologies that are dramatically reshaping industries, economies, and workforces today.
ABI Research提供开创性的研究和战略指导,帮助客户了解日新月异的技术。 自1990年以来,我们已与全球数百个领先的技术品牌,尖端公司,具有远见的政府机构以及创新的贸易团体建立了合作关系。 我们帮助客户创造真实的业务成果。
For more information about ABI Research's services, contact us at +1.516.624.2500 in the Americas, +44.203.326.0140 in Europe, +65.6592.0290 in Asia-Pacific, or visit www.abiresearch.com.