ABI Research states mobile phone accessories in the aftermarket will generate revenues of US$51.1 billion by the end of 2014. Protective carry cases continue to generate the highest revenues and shipment numbers (US$13 billion and 557 million respectively) with additional chargers and memory cards among the other major contributing product categories.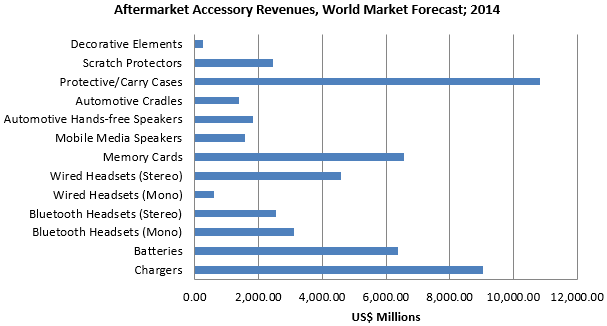 "Consumers are seeking additional protection for their smartphones, with most modern devices coming with larger screens and therefore more susceptibility to damage if dropped or carried in a pocket unprotected," comments Thomas McCourtie, Research Analyst at ABI Research.
"Some protective cases also offer compartments to store debit and credit cards, and with an increasing number of consumers opting to pay for goods and services via contactless payment systems, there is more of an incentive to carry all essential items (phone and bank cards) together for added convenience. Mobile phone accessories with Bluetooth availability will continue to be the most shipped handset smart accessory with sales increasing by almost 20% (18%) over a 5-year period; 2014 to 2019. Products in this category generally have lower shipment volumes but many Bluetooth enabled accessories are proving popular with consumers, particularly mobile media speakers and headphones," adds McCourtie.
"Products such as the Beats by Dr. Dre Pill and the Creative D200 have become some of the most sought-after mobile accessories," finishes McCourtie. "People are willing to pay for quality audio and highly visual brands. The popularity of music streaming services such as iTunes, Spotify, and Beats Music is helping to drive sales."
These findings are part of ABI Research's Wearables and Smart Accessories Market Research.
ABI Research provides in-depth analysis and quantitative forecasting of trends in global connectivity and other emerging technologies. From offices in North America, Europe and Asia, ABI Research's worldwide team of experts advises thousands of decision makers through 70+ research and advisory services. Est. 1990. For more information visit www.abiresearch.com, or call +1.516.624.2500.
About ABI Research
ABI Research is a global technology intelligence firm delivering actionable research and strategic guidance to technology leaders, innovators, and decision makers around the world. Our research focuses on the transformative technologies that are dramatically reshaping industries, economies, and workforces today.
ABI Research提供开创性的研究和战略指导,帮助客户了解日新月异的技术。 自1990年以来,我们已与全球数百个领先的技术品牌,尖端公司,具有远见的政府机构以及创新的贸易团体建立了合作关系。 我们帮助客户创造真实的业务成果。
For more information about ABI Research's services, contact us at +1.516.624.2500 in the Americas, +44.203.326.0140 in Europe, +65.6592.0290 in Asia-Pacific, or visit www.abiresearch.com.