​ABI Research reports that Android once again dominated the Q1 2014 shipment numbers for smartphone advanced operating systems with 80% market share (including AOSP) of just under 300 million smartphones shipped in Q1 2014.
"Interestingly, basic mobile phones lost 5% market share and Android picked up almost all of these users, suggesting Android is set to gain almost all of the billions of mobile subscribers still upgrading to smartphones. Certainly, Android looks set to completely dominate the high growth developing markets and increase its market share still further," said Nick Spencer, senior practice director, mobile devices.
Microsoft's Windows Phone (essentially Nokia/Microsoft) continued its steady progress with 16% sequential growth and an increase of 1% in market share. "Microsoft Windows Phone is currently the only viable third ecosystem. BlackBerry has faded on all fronts (BlackBerry 10 and OS) and while Firefox remains a potential low-cost challenger, it has yet to make any significant impact," added Spencer.
N.B. The below chart includes Basic Mobile Phones not just Advanced Operating Systems.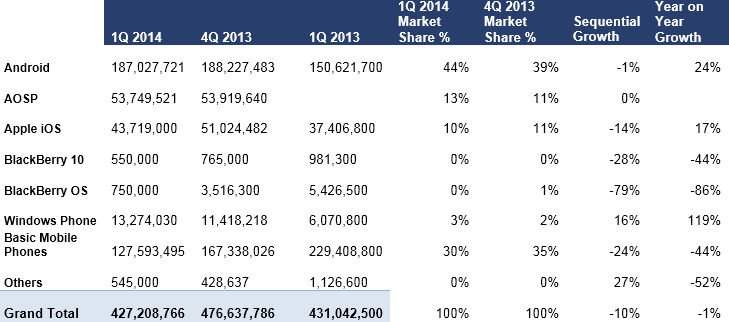 Apple's iOS also achieved steady progress with 17% year-on-year growth, but growth is undoubtedly flattening and the iPhone 5c has done little to boost sales volumes.
These findings are part of ABI Research's Smartphones and Handsets Market Research.
ABI Research provides in-depth analysis and quantitative forecasting of trends in global connectivity and other emerging technologies. From offices in North America, Europe and Asia, ABI Research's worldwide team of experts advises thousands of decision makers through 70+ research and advisory services. Est. 1990. For more information visit www.abiresearch.com, or call +1.516.624.2500.
About ABI Research
ABI Research is a global technology intelligence firm delivering actionable research and strategic guidance to technology leaders, innovators, and decision makers around the world. Our research focuses on the transformative technologies that are dramatically reshaping industries, economies, and workforces today.
ABI Research提供开创性的研究和战略指导,帮助客户了解日新月异的技术。 自1990年以来,我们已与全球数百个领先的技术品牌,尖端公司,具有远见的政府机构以及创新的贸易团体建立了合作关系。 我们帮助客户创造真实的业务成果。
For more information about ABI Research's services, contact us at +1.516.624.2500 in the Americas, +44.203.326.0140 in Europe, +65.6592.0290 in Asia-Pacific, or visit www.abiresearch.com.