ABI Research predicts Android is set to face a greater challenge for market share in the smart watch segment once Apple's new device becomes available in 2015. ABI Research forecasts Android's total market share of smart watches to fall below 50% for the first time since the smart watch renaissance of September 2013, which saw several new devices launched on the platform. iOS is set to take a significant 50% share. The number of Android based wearable devices shipped by the end of 2014 will hit around 6 million, with this figure set to rise to 15 million in 2015.
"Android has enjoyed unprecedented success within this market with products such as the Samsung Gear series and Sony smart watches; however, the Apple Watch will pose a significant threat," commented Thomas McCourtie, Research Analyst, ABI Research.
"Judging by the previous sales performance of newly released Apple products, ABI Research anticipates a high number of sales of the Apple Watch upon its initial release. The iPad sold almost 5 million units during the first two quarters of release (2Q 2010 and 3Q 2010), and the Apple Watch will be no exception.The high number of loyal and affluent multiple Apple device owners alone will drive significant numbers of sales," added McCourtie.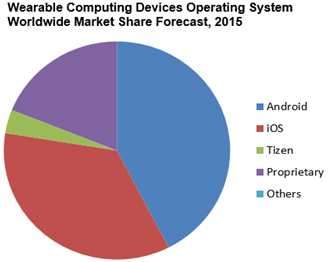 Android's 2013 market share of all wearable devices totaled 75%. This is expected to fall to 67% by the end of 2014, and even further to 42% in 2015 following the launch of the Apple Watch, in which iOS will gain a 35% stake in the market.
These findings are part of ABI Research's Wearables and Smart Accessories Market Research which includes Research Analyses, Market Data, Insights, and Competitive Assessments.
ABI Research provides in-depth analysis and quantitative forecasting of trends in global connectivity and other emerging technologies. From offices in North America, Europe and Asia, ABI Research's worldwide team of experts advises thousands of decision makers through 70+ research and advisory services. Est. 1990. For more information visit www.abiresearch.com, or call +1.516.624.2500.
About ABI Research
ABI Research is a global technology intelligence firm delivering actionable research and strategic guidance to technology leaders, innovators, and decision makers around the world. Our research focuses on the transformative technologies that are dramatically reshaping industries, economies, and workforces today.
ABI Research提供开创性的研究和战略指导,帮助客户了解日新月异的技术。 自1990年以来,我们已与全球数百个领先的技术品牌,尖端公司,具有远见的政府机构以及创新的贸易团体建立了合作关系。 我们帮助客户创造真实的业务成果。
For more information about ABI Research's services, contact us at +1.516.624.2500 in the Americas, +44.203.326.0140 in Europe, +65.6592.0290 in Asia-Pacific, or visit www.abiresearch.com.