| | |
| --- | --- |
| Intel Formally Enters the Geospatial Industry through Platform Play | NEWS |
---
Intel has recently launched Intel Geospatial, a geo-visual data management platform that is angled toward Artificial Intelligence (AI) analytic functionalities and Three-Dimensional (3D) data analytics/visualization. It is built to complement Geographic Information System (GIS) platforms, such as Esri's ArcGIS engine, and Intel partners with 14 other geospatial and Information Technology (IT) companies, including Cesium, Bentley, Hexagon Geospatial, etc. Currently, Intel Geospatial runs on Amazon Web Service (AWS) and can ingest multi-source data types, such as satellite data, manned aircraft data, and drone data.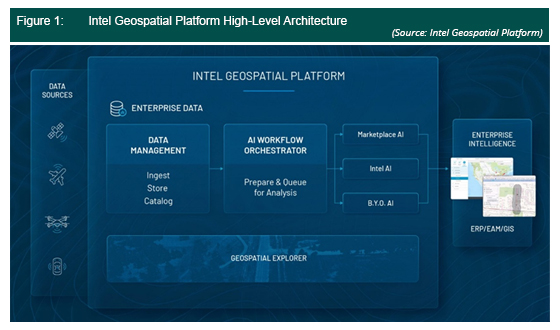 The platform uses Enview's AI to enable 3D geospatial classification for faster turnaround of Light Detection and Ranging (LiDAR) analytics, and incorporates Cesium World Terrain, which is a Digital Elevation Model (DEM) that has approximate resolution of between 50 Centimeters (cm) and 30 Meters (m) for select countries, and includes 3D tiling powered by Cesium.
A Rapidly Growing and Evolving Business …
You must be a subscriber to view this ABI Insight.
To find out more about subscribing contact a representative about purchasing options.