This ABI Insight analyzes the recent partnership announcements between NVIDIA and SoftBank, providing actionable recommendations for the industry that follow from this partnership announcement.
Registered users can unlock up to five pieces of premium content each month.
| | |
| --- | --- |
| NVIDIA Partners with SoftBank for 5G Applications and Generative AI | NEWS |
---
On May 28, 2023, semiconductor manufacturer NVIDIA announced a collaboration with Japanese communication networking specialist SoftBank on a new platform for generative Artificial Intelligence (AI) and 5G/6G applications. As part of the partnership, NVIDIA will provide its NVIDIA GH200 Grace Hopper Superchip for SoftBank to roll out in a range of new data centers across Japan. With this new platform stemming from the partnership, both NVIDIA and SoftBank aim to unlock new opportunities brought by increased digitization across both the consumer and enterprise domains.
This new platform will make use of a new reference architecture based on NVIDIA and Arm hardware, allowing partners to build tailored solutions for different use cases, while saving development resources and reducing time to market.
| | |
| --- | --- |
| The Transformative Power of Distributed Computing | IMPACT |
---
The continuous digitization of society—and enterprises, specifically—increases the demand for processing capabilities closer to the end user or the origin of data on an enterprise site. Distributed computing is an important enabler in this context, allowing processing capabilities to move closer to the edge of the network, which enables new innovative concepts like federated learning.
The combination of AI and 5G connectivity creates important synergies and opens new opportunities to target different enterprise markets. It can be argued that 5G connectivity needs another technology like AI to create concrete applications and, therefore, a tangible value proposition for enterprises.
The partnership between SoftBank and NVIDIA is an important step toward capturing this new opportunity, as it creates important synergies—and above all, a new references architecture that will help channel partners, as well as implementing enterprises, to understand the value proposition of such a new platform. This will be an important decision-making factor for any kind of investment.
| | |
| --- | --- |
| A Wake-up Call for the Semiconductor and Telco Industries | RECOMMENDATIONS |
---
What NVIDIA and SoftBank have now announced is fairly similar to what the team at ABI Research has already been working on for a few years with another big player in the semiconductor industry. At that time, we saw the opportunity of combining 5G connectivity with distributed computing and new technologies like AI, and were surprised that the industry did not act upon this, instead giving the stage to other semiconductor companies to benefit from this opportunity.
It is becoming clear, however, that—contrary to previous beliefs—no single company will be successful in trying to offer this combination on their own. After all, it is both time- and resource-intensive to build up expertise in new domains, and in a rapidly emerging market (as is the case with distributed computing), time to market matters even more than in mature markets. Consequently, partnerships and co-creation initiatives will continue to drive the market.
In deciding on ideal partners, semiconductor manufacturers should rank different potentials based a careful analysis of Strengths, Weaknesses, Opportunities, and Threats (SWOT) for each potential partner from the telco industry. Furthermore, semiconductor manufacturers need to consider a few additional aspects in deciding on partnerships to become more involved in the market for 5G-enabled solutions:
Domain Expertise: Different telco players focus on different domains within the distributed computing sphere. Semiconductor manufacturers should carefully assess each domain to identify what capabilities they are missing and which partners to bring in. Figure 1 illustrates ABI Research's understanding of the market landscape and might help in this context.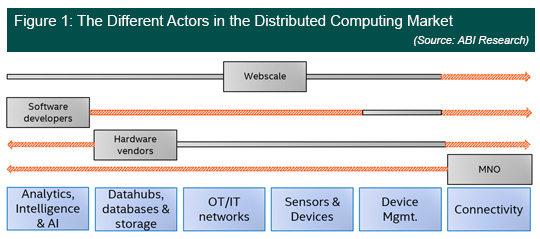 Regional Strength: The traction of different players varies between geographical regions, especially when it comes to the enterprise domain. The role of Mobile Network Operators (MNOs), for example, is much stronger in geographical regions with no shared/enterprise-specific spectrum arrangements.
Vertical-Specific Traction: Similar to the regional dimension, the traction of different telco actors also varies across different verticals. Heavy industry verticals (e.g., manufacturing, logistics, and oil & gas) are much more reluctant to work with MNOs than commercial real estate or hospitality verticals.