PTC's annual LiveWorx customer and partner event returned to the Boston Convention Center May 15 to May 18 after a 4-year hiatus during which it invested US$3 billion across several marque acquisitions that together frame its new worldview. Key topics and themes included closed-loop digital thread, applied Artificial Intelligence (AI), the metaverse, and product lifecycle innovation, in addition to the implications and outcomes of recent activities.
Registered users can unlock up to five pieces of premium content each month.
| | |
| --- | --- |
| Product Lifecycle Innovation | NEWS |
---
PTC is going all in on closed-loop product lifecycle innovation. The company's US$3 billion acquisition spree since the last in-person LiveWorx includes Onshape for Software-as-a-Service (SaaS)-based Computer-Aided Design (CAD), Arena for Product Lifecycle Management (PLM), Codebeamer for Application Lifecycle Management (ALM), and ServiceMax for Service Lifecycle Management (SLM). Chief Executive Officer (CEO) Jim Heppelmann's opening keynote Tuesday morning set the tone by emphasizing the continued thrust for innovation in these domains plus, importantly, how they intersect other parts of the PTC business, including existing and new CAD (Creo, Creo+), PLM (Windchill, Windchill+), connectivity (Kepware, Kepware+), and device management (ThingWorx), to name a few. More than 6,500 attendees had access to 170,000 square feet of exhibit space, top leadership at PTC, and its growing portfolio of partners for a full program of updates and training.
| | |
| --- | --- |
| How PTC Is Closing the Loop | IMPACT |
---
For a long time, PTC had a hand in how products are designed and made, but not in how they are maintained once they left the factory. ServiceMax allows PTC to close this loop with other solutions, including CAD and PLM, which means that learnings from servicing products once they are in the field can be fed back to product design and engineering teams to improve those products and improve how those products are made. PTC used LiveWorx to reinforce the significance of this recent acquisition; double down on its SaaS-based "plus strategy," which designates PTC products as SaaS-enabled; release Creo+ for real-time multi-user collaboration; expand its relationship with Ansys by integrating the Ansys materials management system with Creo and Windchill so engineers can see pre-approved materials options directly in those systems; advance its relationship with aPriori to optimize cost assessments in Creo and Windchill; and emphasize the power of as-a-Service.
PTC also used LiveWorx to offer a new infinity diagram (below) that illustrates the concept of a model-based digital thread, from product planning, engineering, testing, and validation to production and after-sales service and support. This is an asset-centric view of the world, but one that is increasingly relevant with recognition by many companies that a product can generate 10X more service revenue over its lifetime compared to the initial product sale. The longer-term implication is that asset models are necessary to scale field applications, such as those enabled by Vuforia (Augmented Reality (AR)), ThingWorx (device management, application enablement), Arbortext (technical documentation), and Servigistics (spare parts inventory optimization). For example, using AR to determine whether a product is manufactured as-designed, and whether an as-maintained product in the field meets its asset definition, aka whether it needs repair.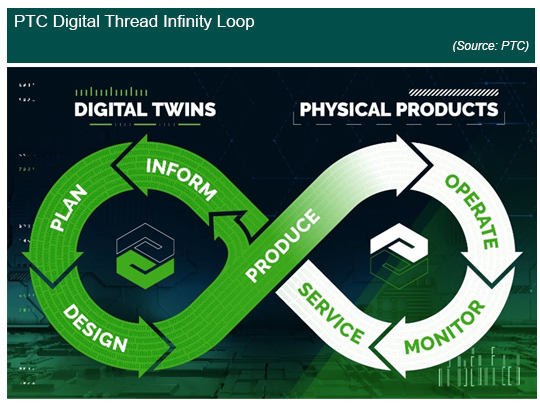 | | |
| --- | --- |
| What's Next for Digital Thread in a Connected Future | RECOMMENDATIONS |
---
PTC's typical customer makes a physical product. Product-focused companies are increasingly looking to software-driven innovation to update and improve their products long after they are manufactured. This means a need for best-in-class tools to develop and manage software alongside developing and managing hardware—at least this is PTC's case for combining ALM (Codebeamer) with PLM (Windchill, Arena) in the same breadth.
At the same time, there was a major emphasis on SaaS and how PTC's Atlas platform will underpin all PTC digital thread products ("plus" products) over time—currently, 25% of PTC's customers use PTC SaaS offerings. It is our understanding that all existing PTC products will continue to coexist and be supported (e.g., CAD = Creo, Creo+, Onshape; PLM = Windchill, Windchill+, Arena).
Interestingly, Rockwell had a small booth headed by Kalypso (a System Integrator (SI)), but was otherwise of little mention compared to years past. This is around the time that PTC and Rockwell should be due to re-evaluate the terms of their previous US$1 billion partnership, which was renewed for 2 years, about 2 years ago. Moreover, components of the Rockwell value proposition, including plant simulation, Manufacturing Execution System (MES), and reseller potential are somewhat accounted for by other activities, including the Ansys partnership (simulation), a partnership with iBase-t (MES), and the acquisition of ServiceMax. Of these, MES is the biggest hole in the digital thread picture PTC is painting.
Ultimately, customers want to start small and scale fast, and PTC has a growing repertoire of tools to support companies at various stages along their digital transformation journey. Increasingly, expect to see products cloud enabled and connected with future integrations designed to ease product innovation through manufacturing and service lifecycles.