Singtel launched the Singtel Paragon in order to lower the barrier of adoption for enterprise 5G use cases. Yet, it is not the only initiative by Singtel to help drive the enterprise 5G market. However, the Singtel Paragon prepares Communications Service Providers (CSPs) to capture future market opportunity when more enterprises adopt 5G use cases. It is crucial for CSPs to stay informed and relevant to the market if they want to capitalize on the enterprise 5G opportunity.
Registered users can unlock up to five pieces of premium content each month.
| | |
| --- | --- |
| Singtel Adds the Paragon to Its 5G Enterprise Arsenal | NEWS |
---
Singtel has launched its latest solution, the Singtel Paragon, for the 5G enterprise market. The Singtel Paragon seeks to make adopting 5G enterprise use cases much easier and allows businesses to focus on where it matters. There is a good reason why Singtel has continued developing and delivering new solutions for the 5G enterprise market.
Globally, CSPs are increasingly under pressure to innovate and transform their business model to grow their top-line and market opportunities. Traditionally, the CSP business model has been based on the consumer market; however, that has changed thanks to 5G. With 5G and the increasing digital transformation, new opportunities have surfaced for CSPs in the 5G enterprise market. One of the ways CSPs can tap onto the new 5G enterprise market is by implementing 5G network slicing. 5G network slicing is a key technology that provides differentiated network services based on the requirement from various industries and applications.
| | |
| --- | --- |
| Challenges Remain for 5G Enterprise Adoption | IMPACT |
---
However, there are many challenges to adopting 5G for businesses. These can be due to resourcing within the company, uncertainty about the technology, and immature 5G use cases for business, among others (e.g., limited devices). At the same time, if 5G is set to transform the processes within businesses, expertise will be required to manage the transformation and future implementations. What can CSPs do to help drive greater adoption and further develop this 5G enterprise market?
In Asia-Pacific, there is perhaps one CSP setting itself as different from the rest—Singtel. It is positioning itself for the future, moving beyond lowering the barriers for 5G adoption. Singtel also provides a platform to support trials and commercial deployments, and is building a future talent pool. This holistic multi-prong approach is what sets Singtel apart from the rest.
5G Test Beds & 5G Garage: These 5G test beds are set to allow free access to companies and solution providers to tap into 5G for trials.
5G Academy: Singtel partners with Institutes of Higher Learning (IHLs) to expand the pool of talent in the field of 5G and other emerging technologies (e.g., the cloud).
5G GENIE: 5G-in-a-box platform, in collaboration with Ericsson, a portable 5G network solution for trials (helps to lower private infrastructure barriers at the trial phase).
Singtel Paragon: All-in-one 5G platform solution to deploy and support 5G enterprise applications and their use cases (helps to lower barriers at the adoption phase).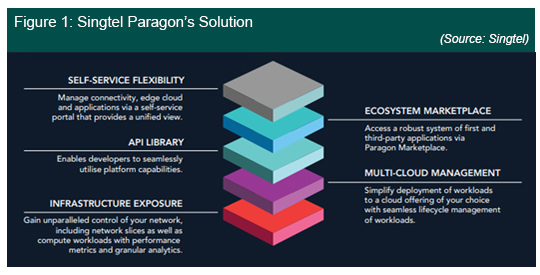 Among the different solutions, the Singtel Paragon is the "X-factor." The Singtel Paragon is a platform that manages network and edge cloud resources to support advanced applications in real time. It also can help address complexities and increasing overhead costs of using these technologies. Within the Paragon is an ecosystem of 5G Multi-access Edge Computing (MEC) plug-and-plug solutions ready to be deployed. Ultimately, what the Paragon offers is not only applicable for large enterprises, but also Small and Medium Enterprises (SMEs). The Singtel Paragon is the solution to ease even the challenges SMEs face when implementing 5G use cases for their businesses. Essentially, the message that the Singtel Paragon delivers is this: "Leave it to us and your 5G use case will be up and running."
| | |
| --- | --- |
| Is This Truly the Paragon for Driving 5G Enterprise Adoption? | RECOMMENDATIONS |
---
This is one of the ways in which CSPs are reacting to the development of 5G enterprise and market dynamics. Singtel recognizes that for businesses to roll out and implement 5G use cases, they not only need to know what the technology is capable of, but also the expertise to implement and fine-tune solutions. And to test it and validate the concepts, 5G test beds and the 5G Garage provide the go-to-market testing for enterprises. This multi-prong approach that Singtel takes can help CSPs stay relevant and informed about the market.
While some countries do have private 5G spectrum for enterprises to apply directly, it does not prohibit the market opportunity for CSPs. There is no homogenous enterprise market in the world; they vary based on size, business model, and industry. Larger enterprises might have the resources to commit, assess, and implement future technologies. SMEs can just as easily be the market opportunity, but with a different type of solution and approach that suits them, such as the Singtel Paragon. It is most likely that the way 5G enterprise use cases will be adopted depends on multiple factors (e.g., budget, use cases, security, control). Based on ABI Research's forecasts, the neutral baseline for 5G network slicing revenue is expected to reach approximately US$23.5 billion by 2028. This is a huge market opportunity for CSPs and they need to adopt new business models and approaches to capture new value in the enterprise market, while maintaining a cautious approach to new competition in the market.