Resonant, a US designer of key 5G Radio Frequency filters and components, has agreed to be acquired by Murata Electronics North America Inc., a wholly owned subsidiary of Murata Manufacturing, for US$4.50 per share in an all-cash deal worth approximately US$300 million. The deal will see Japanese technology group Murata acquire all outstanding shares (above the 4% it already owns) and is expected to close by the end of March 2022.
| | |
| --- | --- |
| Murata Acquisition to Help Expand Offerings and Allow Access to Additional Markets | NEWS |
---
Murata is a global leader in Radio Frequency (RF) system solutions and filter products, with an estimated 38% leading share of the filter market. The acquisition will combine Murata's mobile RF product capabilities with Resonant's proprietary XBAR filter technology, while also leveraging Resonant's strong IP portfolio and experienced advisory board. Since 2019, when Murata bought a minority stake in Resonant, they have collaborated closely in the joint development of XBAR, which has been used by Murata with its 5G filters to provide higher frequency and improved performance, enhancing its advanced RF Front-End (RFFE) capabilities. The remaining purchase, which Murata made once XBAR-related technology had become commercially viable, is expected to deepen the two companies' existing partnership, positioning them to better meet customers' needs and expand opportunities.
Resonant brings with it over 300 total patents, with half of those centered on its XBAR technology. The company's Infinite Synthesized Networks (ISN) platform with XBAR technology allows for custom designs, reducing the size of the filter and increasing its performance, while addressing the increasing levels of RFFE complexity as the market moves to 5G and beyond.
| | |
| --- | --- |
| Commercial Viability of XBAR Crucial to Breakout Success in the RF Filter Market | IMPACT |
---
The adoption of 5G continues to thrive in the mobile devices market, but democratization of the 5G experience will be constrained not just by the modem and application processor, but also by the complexity of the RFFE. In turn, within the RF are the filters that will be the most challenging and essential area to address fully. The sheer number of filters now needed in a 5G device has grown exponentially, while pressure to improve performance, thermal efficiency, and reduce the overall die area have become ever more important to help reduce cost and ensure integrity of the signal and communication reliability. Filters are increasingly needed to unlock the high bandwidths available in 5G as well as next generation Wi-Fi co-integration, which also operates at high frequencies.
A variety of RF filters are available to the devices market, notably acoustic-based piezoelectric filter technologies such as Surface Acoustic Wave (SAW) and Bulk Acoustic Wave (BAW), each of which have their strengths in distinct frequency bands and come with varying levels of complexity and costs. The SAW family of filter technologies, which generally operates at lower frequencies and have a simpler manufacturing process, are supplied by companies such as Qorvo, Skyworks, Murata, and Qualcomm. In contrast, BAW filters, which includes Resonant's XBAR, work most effectively at higher frequencies and the market is led by companies such as Broadcom, Murata, Skyworks, Qorvo, and Qualcomm. Each tech grouping has sub-categories of filters that enable improved performance, although some are at an increased cost owing to differences in the manufacturing process.
With many filters available in market, Murata's historic strength has been in SAW filters, and it now adds XBAR in partnership with Resonant to its portfolio with the aim of delivering solutions with optimum RF performance. Murata is expected to accelerate the integration of XBAR into its RF roadmap, mass producing components integrating the technology, which are to become available during 2023. Included among Murata's current Original Equipment Manufacturer (OEM) filter clients is Apple, but it is as of yet unknown who will use XBAR in future products. According to Resonant, there are four XBAR devices currently under contract and the company expects sales to climb into "the hundreds of millions of dollars" in a few years' time, which is presumably why Murata made the acquisition.
| | |
| --- | --- |
| Can XBAR Lead in Transforming RFFEs Designed for 5G Devices? | RECOMMENDATIONS |
---
At present, the mobile handsets market is dominated by SAW filters, but as the market moves to adopt higher 5G frequencies—coupled with a growing need for more precise, higher performance filters—there is a strong shift towards the use of BAW technologies. Moreover, with such a growing number of filters now needed in devices, having requisite thermal performance is also needed for a technology to prosper. In addition, 5G co-existence with next generation Wi-Fi will be of paramount importance, as the level of complexity increases again when transiting to these higher frequencies.
With more competition expected from new players and filter technologies, the expanding 5G filter market is far from settled. There is also industry conflict between those companies that provide RFFE components in close collaboration with others to offer total systems, such as Murata and Qorvo, and those that have end-to-end (E2E) modem-to-RF designs, such as that espoused by Qualcomm. In an effort to create an alternative to Qualcomm's approach, the Open RF Association (OpenRF) was formed, which includes leading modem and RF suppliers such as Murata, Qorvo, Broadcom, Samsung, and MediaTek. While these RFFE system approaches have their strengths and weaknesses, the companies that win out and gain industry support will need to demonstrate that their solution is able to improve performance, reduce time-to-market, lower overall costs, and allow flexibility and customization for end-device differentiation.
As shown in the chart below, Qualcomm is, thus far, the only supplier able to offer an E2E product portfolio from the antenna to modem. Companies such as Qorvo and Skyworks have provided several packaged solutions that have played a significant role in the miniaturization of RF components and modules. Other modem suppliers, including MediaTek, UNISOC, Samsung, and Apple, still lack some key RF components in their portfolios. As such, the RF business is predicted to undergo further consolidation, with modem companies and Tier One OEMs possibly going on the acquisition trail to fill their knowledge gap.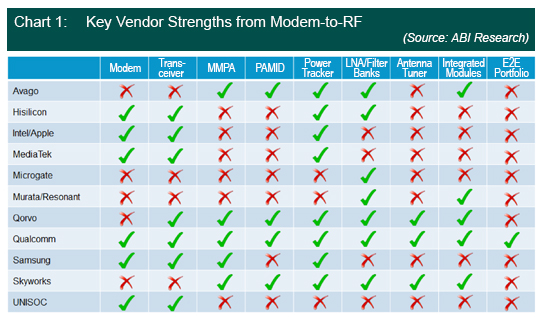 That is not to say, however, that offering an E2E solution is the only answer to solving the increasing 5G RFFE complexity. Smartphone vendors such as Apple still use multiple component suppliers to provide their 5G systems. Indeed, Murata arguably has no intention of creating an E2E portfolio of products but instead sees a massive future market opportunity with its XBAR filter, which it expects to provide superior performance compared to other 5G filter technologies, while offering a solution ripe for helping OEMs unravel the complex challenge of attaining high precision within 5G high-frequency bandwidths and next gen Wi-Fi. Its mantra is that XBAR will deliver "best-in-class products to the RFFE market", particularly as 5G moves to higher frequency ranges. It also sees XBAR as being the answer to providing a true 5G experience as intended, mainly in terms of latency and download speeds, something which it believes has been lacking from the current crop of available filters.
If this promise of XBAR filter solutions comes to fruition, transforming the way 5G RFFEs are designed and delivered for mobile devices, then the technology could indeed lead and become a key strategic differentiator for the 5G mobile industry. However, this is unlikely to happen for a few years yet and the market may have already moved on by the time it has widespread availability and achieves scale. In addition, it needs to convince the industry of its commercially viability and that it is a differentiating technology worth waiting for, which has to be done in an acceptable timeframe before competitors manage to catch up. Moreover, it must be a cost-effective solution compared with other RFFE options if it is to carve out significant market share.