ABI Research reports that the average US implied subsidy for devices offered as part of Verizon Wireless' handset line-up is on average US $447, which is over $40 more per device than the industry average and a staggering $114 more than the average device offered by US Cellular. Handset subsidies are fast becoming one of the major focus items for carriers as they see smartphone markets mature, service revenues plateau, and total traffic generated from advanced devices eat into profitability. Attention has fundamentally shifted from subscriber additions to maintaining a profitable business for carriers in the worlds most advanced cellular market.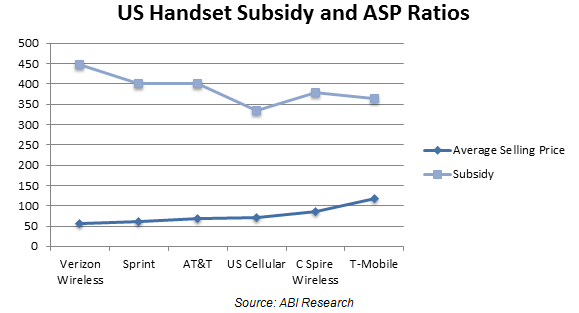 Stuart Carlaw, chief research officer, stated: "Subsidies are a prime battleground for carriers in the US market. Recent competitive moves from carriers like T-Mobile mean that the conflict between OEMs looking to maintain or grow ASP through feature creep and operators looking to shore up margins and reduce subsidy is about to enter a new phase." These results need to be viewed in light of device capabilities and also subscriber base dynamics of individual carrier business; nonetheless, there are clear opportunities to improve business performance through a more targeted approach to subsidy offerings.
Senior practice director for devices, Nick Spencer, added: "Operators need to focus on retaining and acquiring profitable customers, rather than continuing to obsess about market share, but handset offers remain the key driver of customer churn. Verizon Wireless clearly feels it has the right combination of efficiency and scale to ensure the majority of these aggressively subsidized contracts offers will provide a profitable—or at least break even—customer lifetime value by the end of the contract."
This information is found in the ABI Research Device Portal: a comprehensive guide to all mobile handsets. Data is sortable by manufacturer, carrier, price band, subsidy level, sales channel and ICs.
ABI Research provides in-depth analysis and quantitative forecasting of trends in global connectivity and other emerging technologies. From offices in North America, Europe and Asia, ABI Research's worldwide team of experts advises thousands of decision makers through 70+ research and advisory services. Est. 1990. For more information visit www.abiresearch.com, or call +1.516.624.2500.
About ABI Research
ABI Research is a global technology intelligence firm delivering actionable research and strategic guidance to technology leaders, innovators, and decision makers around the world. Our research focuses on the transformative technologies that are dramatically reshaping industries, economies, and workforces today.
ABI Research提供开创性的研究和战略指导,帮助客户了解日新月异的技术。 自1990年以来,我们已与全球数百个领先的技术品牌,尖端公司,具有远见的政府机构以及创新的贸易团体建立了合作关系。 我们帮助客户创造真实的业务成果。
For more information about ABI Research's services, contact us at +1.516.624.2500 in the Americas, +44.203.326.0140 in Europe, +65.6592.0290 in Asia-Pacific, or visit www.abiresearch.com.