ABI Research reports that Samsung, the world leader in mobile handsets, has started shipment of its internally created quad-core application processor with integrated LTE modem. The chip consists of a 1.4GHz quad-core application processor and a 2G/3G/4G modem.
Jim Mielke, VP of engineering at ABI research, comments, "We have seen a number of generations of Samsung LTE single-mode modems, and the higher marketed multi-core processors (Exynos family) but this is the first introduction of a quad-core processor with an integrated tri-mode modem (2G/3G/4G)." Samsung is only the second company to ship an application processor with an integrated LTE modem (Qualcomm being the other supplier in production). Mielke continues, "This is also the first time we have seen a complete chipset from Samsung, whereas prior chips from the company were surrounded by other suppliers for power management and RF." The complete chipset found in the Samsung phone includes a Samsung power management unit (PMU) and a Samsung 2G/3G/4G transceiver. Other notable components found in the phone include a multi-mode/multi-band PA from TriQuint, an audio Hub from Wolfson Microelectronics, a MEMS microphone from Knowles, and Wi-Fi/BT and GPS solutions from Broadcom.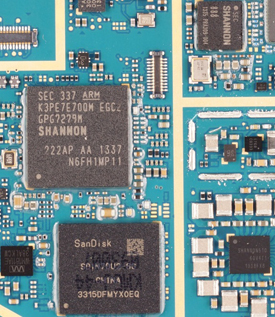 A complete teardown of the Samsung chipset and accompanying chips is available from ABI Research's Teardown Service. The full teardown includes a complete bill of materials w/cost estimates, high resolution dismantling and board photos, performance benchmarks, current drain measurements, component die photos and X-rays.
ABI Research provides in-depth analysis and quantitative forecasting of trends in global connectivity and other emerging technologies. From offices in North America, Europe and Asia, ABI Research's worldwide team of experts advises thousands of decision makers through 70+ research and advisory services. Est. 1990. For more information visit www.abiresearch.com, or call +1.516.624.2500.
About ABI Research
ABI Research is a global technology intelligence firm delivering actionable research and strategic guidance to technology leaders, innovators, and decision makers around the world. Our research focuses on the transformative technologies that are dramatically reshaping industries, economies, and workforces today.
ABI Research提供开创性的研究和战略指导,帮助客户了解日新月异的技术。 自1990年以来,我们已与全球数百个领先的技术品牌,尖端公司,具有远见的政府机构以及创新的贸易团体建立了合作关系。 我们帮助客户创造真实的业务成果。
For more information about ABI Research's services, contact us at +1.516.624.2500 in the Americas, +44.203.326.0140 in Europe, +65.6592.0290 in Asia-Pacific, or visit www.abiresearch.com.