ABI Research reports that the average US implied subsidy for Samsung devices is 84% as compared to Apple 74% and HTC 80%, although absolute value of subsidy is $110 higher for the average Apple product. OEMs and their carrier partners increasingly have to continue to employ highly tactical methods to make sure that their devices are subsidized to a competitive price point in order to help prevent consumers acting to avoid their product on price point alone.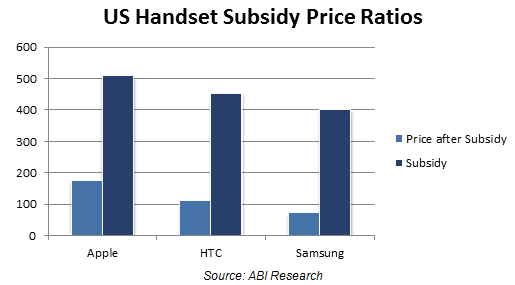 Stuart Carlaw, chief research officer, stated: "Samsung continues to squeeze its competitors at every turn. The Samsung Galaxy SIV is now considered on a par with Apple's iPhone 5. Coupled with better subsidy, the breadth of its device portfolio, increasingly savvy marketing, and its excellence in channel execution, it is little wonder Samsung is dominating the mobile handset market from top to bottom."
Senior practice director for devices, Nick Spencer, added a note of caution: "The smartphone market in particular is entering a new phase focusing on execution and price, rather than innovation and value. Samsung's scale and supply chain excellence is allowing it to put its competitors under increasing price pressure and win market share. This is a major concern for the rest of the market, especially for smaller, less efficient vendors, as margins will be squeezed and overall market value reduced."
This information is found in the ABI Research Device Portal: a comprehensive guide to all mobile handsets. Data is sortable by manufacturer, carrier, price band, subsidy level, sales channel and ICs.
ABI Research provides in-depth analysis and quantitative forecasting of trends in global connectivity and other emerging technologies. From offices in North America, Europe and Asia, ABI Research's worldwide team of experts advises thousands of decision makers through 70+ research and advisory services. Est. 1990. For more information visit www.abiresearch.com, or call +1.516.624.2500.
About ABI Research
ABI Research is a global technology intelligence firm delivering actionable research and strategic guidance to technology leaders, innovators, and decision makers around the world. Our research focuses on the transformative technologies that are dramatically reshaping industries, economies, and workforces today.
ABI Research提供开创性的研究和战略指导,帮助客户了解日新月异的技术。 自1990年以来,我们已与全球数百个领先的技术品牌,尖端公司,具有远见的政府机构以及创新的贸易团体建立了合作关系。 我们帮助客户创造真实的业务成果。
For more information about ABI Research's services, contact us at +1.516.624.2500 in the Americas, +44.203.326.0140 in Europe, +65.6592.0290 in Asia-Pacific, or visit www.abiresearch.com.