Samsung and Apple Devices Dominate Smartphone Device Model Top 20
Oyster Bay, New York - 07 Jul 2014
Samsung and Apple account for the majority of the top 20 smartphone models sold worldwide in Q1 2014. Heavily marketed flagship devices like the iPhone 5s 16GB and Samsung's Galaxy S4 i9500 16GB top the rankings. "Samsung's dominance is driven by its market leading 27% market share and despite Apple's lower market share its small, clearly tiered portfolio creates significant volume for just a few SKUs," commented Nick Spencer, senior practice director, ABI Research.
Sony, LG, and for the first time, Xiaomi make up the rest of the top 20, with Huawei dropping out. "The much talked about Chinese vendor Xiaomi's top device by shipment volume is the Redmi, which is now available outside of China, at a very affordable $130," added Spencer.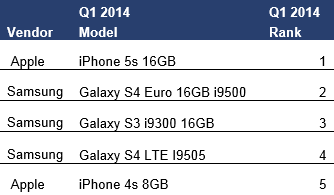 The other smartphone vendors are struggling to compete with Apple and Samsung's huge flagship device marketing budgets, both above the line and in channel. ABI Research expects Huawei and HTC to bounce back in to the top 20 after the launch of their flagship devices the HTC One M8 and the Huawei Ascend P7 in Q2 2014.
"The presence of the Samsung Galaxy S3 i9300 16GB and iPhone 4s 8GB in the top five is testament to the enduring appeal of these models and the vendors strong brand, enabling a long and profitable lifecycle, that other vendors can only dream of," finished Spencer.
These findings are part of ABI Research's Smartphones and Handsets Market Research, which includes Research Analyses, Market Data, Insights, and Competitive Assessments.
ABI Research provides in-depth analysis and quantitative forecasting of trends in global connectivity and other emerging technologies. From offices in North America, Europe and Asia, ABI Research's worldwide team of experts advises thousands of decision makers through 70+ research and advisory services. Est. 1990. For more information visit www.abiresearch.com, or call +1.516.624.2500.
About ABI Research
ABI Research provides strategic guidance to visionaries, delivering actionable intelligence on the transformative technologies that are dramatically reshaping industries, economies, and workforces across the world. ABI Research's global team of analysts publish groundbreaking studies often years ahead of other technology advisory firms, empowering our clients to stay ahead of their markets and their competitors.
ABI Research提供开创性的研究和战略指导,帮助客户了解日新月异的技术。 自1990年以来,我们已与全球数百个领先的技术品牌,尖端公司,具有远见的政府机构以及创新的贸易团体建立了合作关系。 我们帮助客户创造真实的业务成果。
For more information about ABI Research's services, contact us at +1.516.624.2500 in the Americas, +44.203.326.0140 in Europe, +65.6592.0290 in Asia-Pacific or visit www.abiresearch.com.