More than 39 million tablets shipped worldwide during the first calendar quarter of 2013, representing the second largest volume of shipments to date; only bested by the previous quarter ending calendar year 2012, according to market intelligence firm ABI Research. The spending power of the largest three world regions and availability of new, higher cost Windows devices from PC OEMs are continuing to drive market awareness and growth.
Tablets remain a lucrative market for the three largest world regions for consumer electronics and computer adoption: North America, Western Europe, and Asia-Pacific's Japan and South Korea. "Three regions of the world are expected to yield 97% of tablet revenues in 2013," says senior practice director Jeff Orr. "North America is forecasted to claim nearly half of the estimated $72 billion expected to be spent this year on tablet devices. Western Europe and Asia-Pacific will also have their hands in the honey pot for a combined 50% of world tablet revenues, respectively."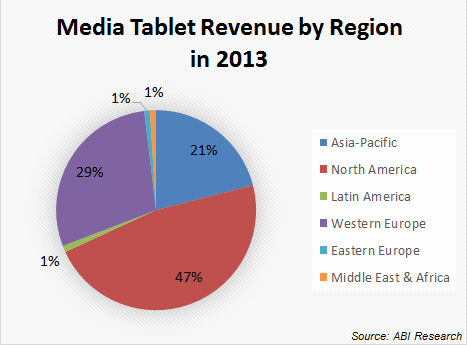 Contributing to the revenue growth is the broader availability of Windows-based tablets. ABI Research estimates only 1.5 million Microsoft Surface tablets shipped during 1Q'2013. "The average selling prices for Windows 8 and Windows RT are higher than other platforms, which is keeping price erosion minimized," adds Orr. Several tablet partners have joined Microsoft in launching Windows tablets, including Acer, ASUS, Dell, HP, Lenovo, Panasonic, Samsung, Sony, Toshiba, and Vizio. Businesses, many of which have loyal Windows PC followings, are a prime growth audience for tablets.
These "Media Tablets and eReaders" Market Data findings are part of ABI Research's Media Tablets, Ultrabooks & eReaders Research Service which includes Research Reports, Market Data, Insights, and Competitive Assessments on technologies and vendor ecosystems shaping the tablet computing industry.
ABI Research provides in-depth analysis and quantitative forecasting of trends in global connectivity and other emerging technologies. From offices in North America, Europe and Asia, ABI Research's worldwide team of experts advises thousands of decision makers through 70+ research and advisory services. Est. 1990. For more information visit www.abiresearch.com, or call +1.516.624.2500.
About ABI Research
ABI Research is a global technology intelligence firm delivering actionable research and strategic guidance to technology leaders, innovators, and decision makers around the world. Our research focuses on the transformative technologies that are dramatically reshaping industries, economies, and workforces today.
ABI Research提供开创性的研究和战略指导,帮助客户了解日新月异的技术。 自1990年以来,我们已与全球数百个领先的技术品牌,尖端公司,具有远见的政府机构以及创新的贸易团体建立了合作关系。 我们帮助客户创造真实的业务成果。
For more information about ABI Research's services, contact us at +1.516.624.2500 in the Americas, +44.203.326.0140 in Europe, +65.6592.0290 in Asia-Pacific, or visit www.abiresearch.com.