iOS Smartphone Market Share Stagnant at 14%, While Windows Phone Climbs 165% Year-on-year to 4% of 3Q World Market
Oyster Bay, New York - 29 Oct 2013
ABI Research reports 438 million handsets and 244 million smartphones shipped during the 3rd quarter of 2013. Samsung retained its lead in handset shipments and grew its share of smartphone shipments to 35%, while Apple share remained flat at 14%.
Smartphone shipment penetration was 56% in Q3, setting a record high for the third consecutive quarter. Windows Phone achieved 165% growth year-on-year, with Nokia accounting for 95% of that shipment volume.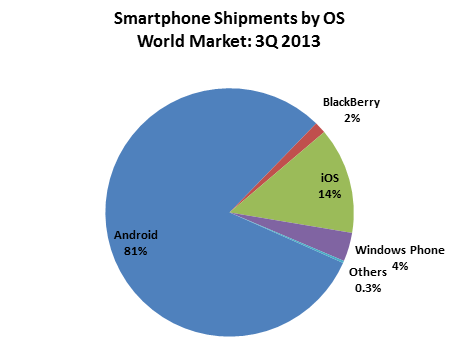 Supported by strong Android shipment growth from Huawei, Lenovo, Xiaomi, and Samsung, Android reached a new high of 80.6% shipment share in Q3. "The race for the third ecosystem is clearly favoring Windows Phone with 4% market share, over BlackBerry's 1.5%, but there remains little opportunity for new market entrants to make a significant impact on Android's dominance," comments senior analyst, Michael Morgan.
Despite a strong showing in late Q3 for Apple's new iPhones, company revenue guidance for Q4 indicates a record 53 million iPhones will ship. "Even with a record Q4 for the iPhone, Apple is only expected to achieve 18.7% market share which is down from the 22.6% Apple achieved in Q4 2012, due to Android's growing dominance and the importance of emerging markets," adds senior practice director, Nick Spencer.
These findings are part of ABI Research's Mobile Handset Markets Research Service.
ABI Research provides in-depth analysis and quantitative forecasting of trends in global connectivity and other emerging technologies. From offices in North America, Europe and Asia, ABI Research's worldwide team of experts advises thousands of decision makers through 70+ research and advisory services. Est. 1990. For more information visit www.abiresearch.com, or call +1.516.624.2500.
About ABI Research
ABI Research provides strategic guidance to visionaries, delivering actionable intelligence on the transformative technologies that are dramatically reshaping industries, economies, and workforces across the world. ABI Research's global team of analysts publish groundbreaking studies often years ahead of other technology advisory firms, empowering our clients to stay ahead of their markets and their competitors.
ABI Research提供开创性的研究和战略指导,帮助客户了解日新月异的技术。 自1990年以来,我们已与全球数百个领先的技术品牌,尖端公司,具有远见的政府机构以及创新的贸易团体建立了合作关系。 我们帮助客户创造真实的业务成果。
For more information about ABI Research's services, contact us at +1.516.624.2500 in the Americas, +44.203.326.0140 in Europe, +65.6592.0290 in Asia-Pacific or visit www.abiresearch.com.