In its latest teardown report, ABI Research, a leader in technology market intelligence, discerns that the Intel® Atom™ x3 Platform, the company's second integrated communication platform, includes the highest integration mobile platform transceiver to date. Code-named "SoFIA," the platform series' implemented innovation demonstrates the company's departure from the norm in taking integration down a new, differentiated path. The typical partition today is a connectivity IC, a transceiver, a power management IC and a modem/application processor IC. Intel's approach combines the first three into a single IC, leaving only the modem/application processor IC required to complete the system.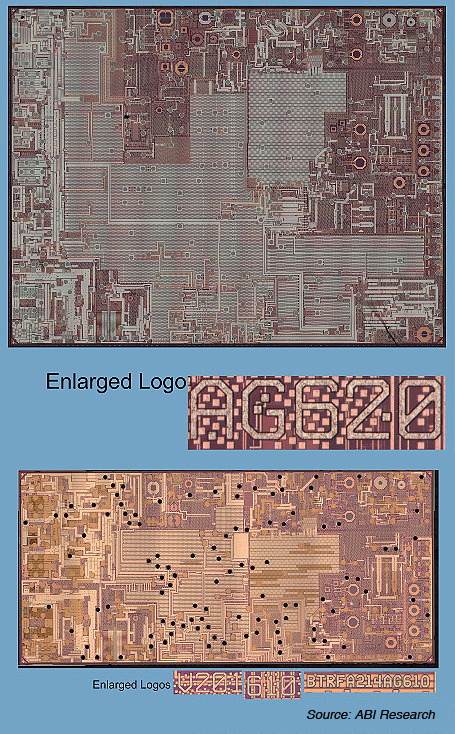 Read ABI Research's Connectivity: Intel Takes Integration Down a New Path teardown report.
Though the Atom x3 series is getting a lot of attention this year, the real first launch of this partition occurred in 2014. The X-GOLD 632 platform, which included the A-GOLD 610 transceiver, the predecessor of the A-GOLD 620, launched in select phones last year. The marked differentiator between the two Intel generations is the addition of Wi-Fi and GPS to the A-GOLD 620. The A-GOLD 610 already contained the 2G/3G transceiver, BT and PMU.
"Intel was able to add all the functionality to the transceiver with very minimal impact to the package size when compared to the prior generation A-GOLD 610," says Jim Mielke, Vice President of Teardowns at ABI Research. "It is worth noting, however, that the internal die grew significantly, nearly doubling in size." 
According to ABI Research's teardown findings, the Intel A-GOLD 620 is a 2G/3G transceiver that not only handles the normal 2G and 3G cellular radio demands, but also includes fully integrated Wi-Fi, Bluetooth 4.0 LE, FMR, GPS and GLONASS connectivity along with the platform audio and PMU functions.
Like the A-GOLD 610, which only requires the X-GOLD 632 modem/application processor to complete the platform, the A-GOLD 620 needs only the Atom x3-C3130 (SoFIA 3G, dual core apps/modem) or Atom x3-C3230 (SoFIA 3GR-quad core apps/modem) to be complete.
These findings are part of ABI Research's Teardowns, which include high-resolution photos and x-rays, pinpoint power measurements, detailed parts lists and block diagrams.
About ABI Research
For more than 25 years, ABI Research has stood at the forefront of technology market intelligence, partnering with innovative business leaders to implement informed, transformative technology decisions. The company employs a global team of senior analysts to provide comprehensive research and consulting services through deep quantitative forecasts, qualitative analyses and teardown services. An industry pioneer, ABI Research is proactive in its approach, frequently uncovering ground-breaking business cycles ahead of the curve and publishing research 18 to 36 months in advance of other organizations. In all, the company covers more than 60 services, spanning 11 technology sectors. For more information, visit www.abiresearch.com.
About ABI Research
ABI Research is a global technology intelligence firm delivering actionable research and strategic guidance to technology leaders, innovators, and decision makers around the world. Our research focuses on the transformative technologies that are dramatically reshaping industries, economies, and workforces today.
ABI Research提供开创性的研究和战略指导,帮助客户了解日新月异的技术。 自1990年以来,我们已与全球数百个领先的技术品牌,尖端公司,具有远见的政府机构以及创新的贸易团体建立了合作关系。 我们帮助客户创造真实的业务成果。
For more information about ABI Research's services, contact us at +1.516.624.2500 in the Americas, +44.203.326.0140 in Europe, +65.6592.0290 in Asia-Pacific, or visit www.abiresearch.com.