The home care/lawn care robotics market will surpass US$2.9 billion by 2019, up from US$1.2B in 2014, according to a new study published by ABI Research entitled Robotic Home Care: Vacuum Cleaners, Floor Cleaners, Lawn Mowers, and Pool Cleaners. Approximately 7 million robotic home care/lawn care products will be sold in 2019, up from 3.4 million in 2014, representing a CAGR of 15.6%.
According to Dan Kara, Practice Director, Robotics at ABI Research, "The home care/lawn care sector is the largest, fastest growing, and most dynamic component of the overall consumer robotics marketplace, and this will remain so for the foreseeable future. Moreover, the addressable markets for these devices are substantial, penetration levels are nowhere near saturation, and in some cases markets are virtually untouched. New advances in low-cost, highly functional, consumer class enabling technology, coupled with greater levels of performance and autonomy, insure ongoing innovation and price points that support widespread adoption."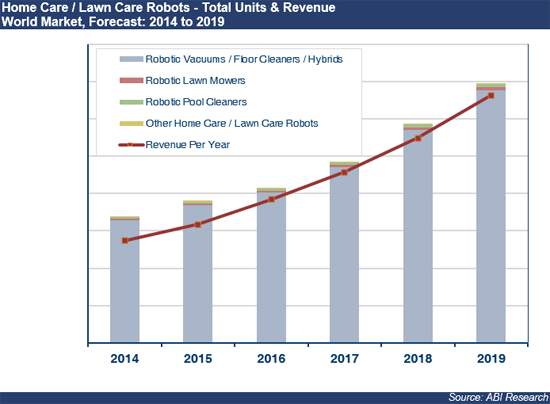 "The Home Care/Lawn Care market will demonstrate continued, solid growth for both revenue and units sold between 2014 and 2019. Revenue growth parallels the unit figures which is indicative of a relatively small increase in ASP across product classes," adds Kara.
This report is part of ABI Research's Robotics, Automation and Intelligent Systems Market Research. This service offers informed and actionable quantitative research and qualitative analysis to solution providers and end-users so that they may increase opportunities and minimize risk when employing robotics and intelligent systems technologies to develop entirely new markets and product categories, and enhance existing product lines.
ABI Research provides in-depth analysis and quantitative forecasting of trends in global connectivity and other emerging technologies. From offices in North America, Europe and Asia, ABI Research's worldwide team of experts advises thousands of decision makers through 70+ research and advisory services. Est. 1990. For more information visit www.abiresearch.com, or call +1.516.624.2500.
About ABI Research
ABI Research is a global technology intelligence firm delivering actionable research and strategic guidance to technology leaders, innovators, and decision makers around the world. Our research focuses on the transformative technologies that are dramatically reshaping industries, economies, and workforces today.
ABI Research提供开创性的研究和战略指导,帮助客户了解日新月异的技术。 自1990年以来,我们已与全球数百个领先的技术品牌,尖端公司,具有远见的政府机构以及创新的贸易团体建立了合作关系。 我们帮助客户创造真实的业务成果。
For more information about ABI Research's services, contact us at +1.516.624.2500 in the Americas, +44.203.326.0140 in Europe, +65.6592.0290 in Asia-Pacific, or visit www.abiresearch.com.