Sony recently released its successor to the SmartWatch 2, unsurprisingly named SmartWatch 3. The SmartWatch 3 has many new features such as waterproof (IP58 rated, not just resistant), improved styling, transition to Android Wear, and introduction of a new wearable platform from Broadcom. This is the first Android smartwatch based on the Broadcom system-on-chip (SoC) platform which includes a 1.2GHz Quad-core ARM Cortex A7 processor (BCM23550), an improved GPS and Sensor processing SOC (BCM47531) capable of simultaneously tracking five satellite systems (GPS, GLONASS, QZSS, SBAS, and BeiDou), the now popular Wi-Fi/BT/NFC/FM quad-combo connectivity chip (BCM43341), and a highly integrated power management IC (BCM59054).
Jim Mielke, VP of Engineering at ABI Research comments, "Platform solutions have been popular in mobile handsets and tablets for years now, but wearable platforms are a rarity yet. It's this type of comprehensive solution that will aid in accelerating the wearable market growth. Platformsallowproduct developers to focus on product feature innovations and user experience leaving most of the development burden of wireless performance and minimized current drain to the chipset provider."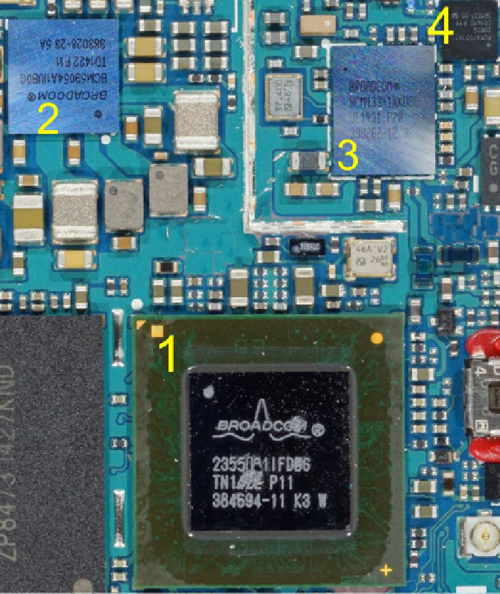 Reduced Resolution Image (Source: ABI Research)
These findings are part of ABI Research's Teardowns Market Research which includes teardowns of wearables, handsets, tablets, and modems.
ABI Research provides in-depth analysis and quantitative forecasting of trends in global connectivity and other emerging technologies. From offices in North America, Europe and Asia, ABI Research's worldwide team of experts advises thousands of decision makers through 70+ research and advisory services. Est. 1990. For more information visit www.abiresearch.com, or call +1.516.624.2500.
About ABI Research
ABI Research is a global technology intelligence firm delivering actionable research and strategic guidance to technology leaders, innovators, and decision makers around the world. Our research focuses on the transformative technologies that are dramatically reshaping industries, economies, and workforces today.
ABI Research提供开创性的研究和战略指导,帮助客户了解日新月异的技术。 自1990年以来,我们已与全球数百个领先的技术品牌,尖端公司,具有远见的政府机构以及创新的贸易团体建立了合作关系。 我们帮助客户创造真实的业务成果。
For more information about ABI Research's services, contact us at +1.516.624.2500 in the Americas, +44.203.326.0140 in Europe, +65.6592.0290 in Asia-Pacific, or visit www.abiresearch.com.