Alcatel-Lucent ranked first among Small Cells and Carrier Wi-Fi solution providers in ABI Research's latest Competitive Assessment. Huawei and Cisco followed in second and third places respectively. The assessment is based on a vendor matrix that ranks vendors according to innovation and implementation in Small Cells and Carrier Wi-Fi solutions:
Overall: ALU, Huawei, Cisco
Innovation: ALU, NSN, NEC
Implementation: ALU, Huawei, Ericsson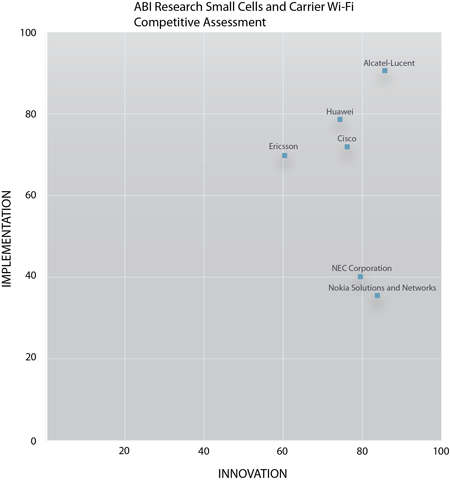 With the rise of Heterogeneous Networks (HetNet) and indoor enterprise market, flexible small cells solutions are needed for different deployment scenarios and to integrate seamlessly with the macro layer and other components of the network. The top three vendors in small cells innovation are: Alcatel-Lucent, Nokia Solutions and Networks, and NEC. These vendors ranked on top because of their extended portfolios and comprehensive set of features.
Implementation top ranks, on the other hand, were given to Alcatel-Lucent, Huawei, and Ericsson for their higher deployment numbers. Alcatel-Lucent has managed to secure the largest number of publicized small cells contracts with top tier-1 operators while Huawei has the highest global reach in terms of small cells with significant presence in all regions.
"The small cells market is very competitive now with the increasing demand for LTE, Carrier Wi-Fi, and enterprise femtocells," says research analyst, Ahmed Ali.Small cells offerings slightly differ based on the company's background (i.e. infrastructure equipment manufacturers, ICT providers, and in-building solution providers, etc.).Most small cell solutions deliver an appreciable increase in voice/data coverage and capacity where deployed.One of the highly anticipated products is the multi-mode small cell that operates on 3G and 4G simultaneously. Continuing, Ali says, "Vendors need to start pushing the envelope in order to differentiate themselves and consider other major areas for growth such as value added services and small cells wireless backhaul."
These findings are part of ABI Research's Small Cells and Carrier Wi-FiResearch Service.
ABI Research provides in-depth analysis and quantitative forecasting of trends in global connectivity and other emerging technologies. From offices in North America, Europe and Asia, ABI Research's worldwide team of experts advises thousands of decision makers through 70+ research and advisory services. Est. 1990. For more information visit www.abiresearch.com, or call +1.516.624.2500.
About ABI Research
ABI Research is a global technology intelligence firm delivering actionable research and strategic guidance to technology leaders, innovators, and decision makers around the world. Our research focuses on the transformative technologies that are dramatically reshaping industries, economies, and workforces today.
ABI Research提供开创性的研究和战略指导,帮助客户了解日新月异的技术。 自1990年以来,我们已与全球数百个领先的技术品牌,尖端公司,具有远见的政府机构以及创新的贸易团体建立了合作关系。 我们帮助客户创造真实的业务成果。
For more information about ABI Research's services, contact us at +1.516.624.2500 in the Americas, +44.203.326.0140 in Europe, +65.6592.0290 in Asia-Pacific, or visit www.abiresearch.com.