ABI Research, the leader in transformative technology innovation market intelligence, forecasts shipments of new cars featuring autonomous parking technologies to grow at 35% CAGR between 2016 and 2026 and for revenues to likewise show growth at 29.5% CAGR.
ABI Research identifies three phases of autonomous parking, with each successive stage set to gradually displace the former and all three coexisting to some degree over the next decade. Ultimately, technology will reach a point in which the car parks itself entirely, with no driver assistance or presence within the car required. In Phase 1, the car will provide steering assistance with the driver still inside the vehicle and in control. Phase 2 shows autonomous parking with the driver outside the vehicle but still in control, and Phase 3 introduces autonomous valet parking in which the driver leaves the vehicle at the entrance of a car park. The car then parks itself and waits for the driver to summon it when it's time to leave.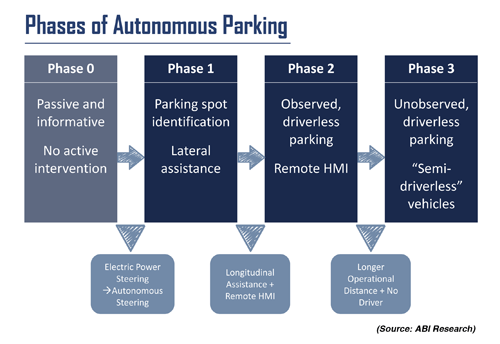 "Passive assistance from ultrasonic sensors and exterior cameras are becoming standard features in most new car models in developed regions," says James Hodgson, Research Analyst at ABI Research. "As more manufacturers turn toward more autonomous parking solutions, OEMs continue to heavily push for consumer education on the systems' safety benefits and added convenience, to convince them of the value of the concept."
The American Automobile Association (AAA) recently published survey results that suggest that 80% of American drivers believe their own parking abilities to be adequate. Only 25% of respondents would trust a self-parking system to replace them in the parking maneuver.
"The market could see a spike in consumer adoption of autonomous parking technology if drivers are drawn by correlated lower insurance costs," continues Hodgson. "Given the empirical evidence demonstrating the superiority of autonomous parking, cars fitted with such technologies may yield lower insurance premiums, as the market experienced with other ADASs, such as autonomous emergency braking."
Phase 2 technologies are evident in the January 2016 launch of the Tesla OTA Summon auto park feature, as well as BMW's recent launch of Remote Control Parking on flagship 7 Series in certain regions. While current Phase 2 technologies are limited in ability, as current car systems can only move the car forward and backward at a distance of a few meters and cannot turn the car, it is an important step forward in that it successfully parks the car with the driver removed.
"As the market moves toward the new future of driverless vehicles, parking will remain an important function, but the evolution could bring about big change," concludes Hodgson. "Car parks will theoretically not need to be close to the driver's final destination once cars can park themselves without driver observation or control. This could signify larger social advantages for crowded areas, as inner cities may soon be able to reclaim parking spaces for other purposes. At the same time, the need for parking spaces may ultimately disappear altogether as shared driverless vehicles drop off and pick up customers in a near continuous way." 
These findings are part of ABI Research's Automotive Safety and Autonomous Driving Service, which includes research reports, market data, insights, and competitive assessments.
# # #
About ABI Research
For more than 25 years, ABI Research has stood at the forefront of technology market intelligence, partnering with innovative business leaders to implement informed, transformative technology decisions. The company employs a global team of senior analysts to provide comprehensive research and consulting services through deep quantitative forecasts, qualitative analyses and teardown services. An industry pioneer, ABI Research is proactive in its approach, frequently uncovering ground-breaking business cycles ahead of the curve and publishing research 18 to 36 months in advance of other organizations. In all, the company covers more than 60 services, spanning 11 technology sectors. For more information, visit www.abiresearch.com.
About ABI Research
ABI Research is a global technology intelligence firm delivering actionable research and strategic guidance to technology leaders, innovators, and decision makers around the world. Our research focuses on the transformative technologies that are dramatically reshaping industries, economies, and workforces today.
ABI Research提供开创性的研究和战略指导,帮助客户了解日新月异的技术。 自1990年以来,我们已与全球数百个领先的技术品牌,尖端公司,具有远见的政府机构以及创新的贸易团体建立了合作关系。 我们帮助客户创造真实的业务成果。
For more information about ABI Research's services, contact us at +1.516.624.2500 in the Americas, +44.203.326.0140 in Europe, +65.6592.0290 in Asia-Pacific, or visit www.abiresearch.com.