In the latest release of its quarterly market tracker for mobile ICs, ABI Research, the leader in transformative technology innovation market intelligence, finds that despite a decent 13% year-on-year growth of mobile processor shipments in 2015, IC suppliers closed out the year with more than 30% loss in share to the top three smartphone vendors. According to report findings, the new development is directly linked to the ongoing smartphone and tablets markets verticalization.
"2015 proved to be a difficult year for mobile processor suppliers, most notably Qualcomm, as its top clients, particularly Samsung and Huawei, increase their reliance on in-house processors to power their own smartphones and tablets," says Malik Saadi, Managing Director and Vice President at ABI Research. "Qualcomm market share in the mobile processor market dropped from 37% in 2014 to 31% in 2015 as a direct impact of the market verticalization."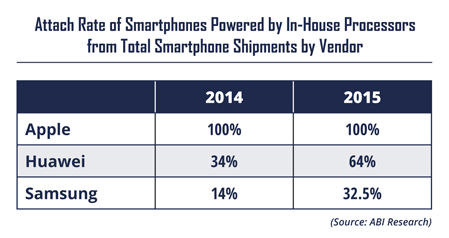 Captive vendors, such as Apple and now Samsung and Huawei, managed to collectively capture more than 30% of the total mobile processor market in 2015, up from just 23% in 2014. This was due to the aggressive verticalization strategy implemented by Samsung and Huawei in recent years, which enabled them to respectively power 32.5% and 64% of smartphones they shipped in 2015 with their own in-house processors. Looking toward the future, other vendors, such as ZTE, LG and Lenovo, may also follow this verticalization, which could lead to even further market share loss by IC vendors in the mobile processor business in the future.
"To prevent verticalization from becoming mainstream, key IC suppliers, including Qualcomm, MediaTek, and Intel, will have to push the differentiation barriers to reach the point at which their chips cannot be rivaled," concludes Saadi. "To accomplish this, IC suppliers should quickly aim to support innovative features, such as artificial intelligence, immersive graphics, and machine vision, in their processors while offering those features at very competitive price points."
These findings are part of ABI Research's Mobile Device Semiconductors Service, which includes research reports, market data, insights, and competitive assessments.
# # #
About ABI Research
For more than 25 years, ABI Research has stood at the forefront of technology market intelligence, partnering with innovative business leaders to implement informed, transformative technology decisions. The company employs a global team of senior analysts to provide comprehensive research and consulting services through deep quantitative forecasts, qualitative analyses and teardown services. An industry pioneer, ABI Research is proactive in its approach, frequently uncovering ground-breaking business cycles ahead of the curve and publishing research 18 to 36 months in advance of other organizations. In all, the company covers more than 60 services, spanning 11 technology sectors. For more information, visit www.abiresearch.com.
About ABI Research
ABI Research is a global technology intelligence firm delivering actionable research and strategic guidance to technology leaders, innovators, and decision makers around the world. Our research focuses on the transformative technologies that are dramatically reshaping industries, economies, and workforces today.
ABI Research提供开创性的研究和战略指导,帮助客户了解日新月异的技术。 自1990年以来,我们已与全球数百个领先的技术品牌,尖端公司,具有远见的政府机构以及创新的贸易团体建立了合作关系。 我们帮助客户创造真实的业务成果。
For more information about ABI Research's services, contact us at +1.516.624.2500 in the Americas, +44.203.326.0140 in Europe, +65.6592.0290 in Asia-Pacific, or visit www.abiresearch.com.