ABI Research Finds Cirrus Logic Outperforms Mother Nature and Introduces World's Smallest MEM Microphone
Oyster Bay, New York - 10 Sep 2015
ABI Research's teardown of a recently released high profile smartphone found that Cirrus Logic introduced the world's smallest MEM microphone. It is 30% smaller than the smallest MEM microphone and less than half the size of MEM microphones typically found in mobile devices.
Miniature microphones are sometimes referred to as "bugs." To put this in perspective, Cirrus Logic's MEM microphone is one-sixth the size of a bed bug.
Jim Mielke, VP of Engineering at ABI Research, comments, "Rather than simply shrinking the typical MEM microphone, Cirrus Logic's WM1706 MEM microphone, which ABI Research named after its die markings, is the first to integrate an amplifier/interface IC and the MEM sensor."
Along with the record-setting MEM microphone, the phone has a Cirrus Logic audio codec. This codec sits alongside a Qualcomm MSM8939 chipset, a Skyworks power amplifier, Qorvo RF switches and a Broadcom NFC solution.
These findings are part of ABI Research's TeardownIQ, which includes a parts list, high-res photos, and power and performance testing.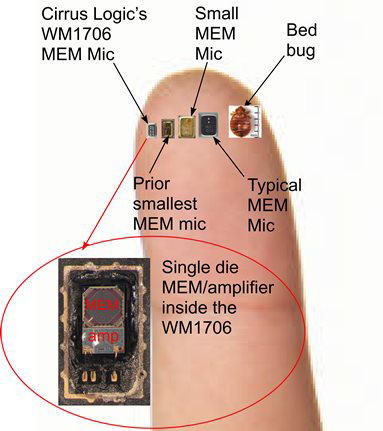 ABI Research provides technology market research and technology intelligence for industry innovators. From offices in North America, Europe and Asia, ABI Research's worldwide team of experts advises thousands of decision makers through 70+ research and advisory services. ABI Research was established in 1990. For more information visit www.abiresearch.com or call +1.516.624.2500.
About ABI Research
ABI Research provides strategic guidance to visionaries, delivering actionable intelligence on the transformative technologies that are dramatically reshaping industries, economies, and workforces across the world. ABI Research's global team of analysts publish groundbreaking studies often years ahead of other technology advisory firms, empowering our clients to stay ahead of their markets and their competitors.
ABI Research提供开创性的研究和战略指导,帮助客户了解日新月异的技术。 自1990年以来,我们已与全球数百个领先的技术品牌,尖端公司,具有远见的政府机构以及创新的贸易团体建立了合作关系。 我们帮助客户创造真实的业务成果。
For more information about ABI Research's services, contact us at +1.516.624.2500 in the Americas, +44.203.326.0140 in Europe, +65.6592.0290 in Asia-Pacific or visit www.abiresearch.com.