ABI Research Analyst will Participate at The Commercial UAV Show, November 14th, 2018
Rian Whitton to Moderate "Leading the World to 5G Connectivity with UAVs"
Oyster Bay, New York - 05 Nov 2018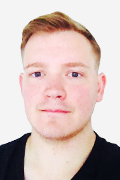 Rian Whitton
Research Analyst
On November 14th, 2018, during The Commercial UAV Show, Rian Whitton, ABI Research's, Research Analyst will moderate the panel discussion:
"Leading the World to 5G Connectivity with UAVs"
Wednesday, November 14, 2018 - 11:20 am (GMT)
The panel discussion will include:
Understanding the applications for UAVs in communications infrastructure
What will the next generation of communication infrastructure for connected UAVs look like?
How can we achieve ultra-reliable and energy-efficient UAV communications?
How will drone manufacturers and telecommunications companies work together to create the 5G Network?
To learn more about the session, click here. For more information about The Commercial UAV Show, click here.
About ABI Research
ABI Research provides strategic guidance for visionaries needing market foresight on the most compelling transformative technologies, which reshape workforces, identify holes in a market, create new business models and drive new revenue streams. ABI's own research visionaries take stances early on those technologies, publishing groundbreaking studies often years ahead of other technology advisory firms. ABI analysts deliver their conclusions and recommendations in easily and quickly absorbed formats to ensure proper context. Our analysts strategically guide visionaries to take action now and inspire their business to realize a bigger picture. For more information about ABI Research's forecasting, consulting and teardown services, visionaries can contact us at +1.516.624.2500 in the Americas, +44.203.326.0140 in Europe, +65.6592.0290 in Asia-Pacific or visit www.abiresearch.com.
Contact ABI Research
Media Contacts:
Americas +1.516.624.2542
Europe +44.(0).203.326.0142
Asia +65 6950.5670
Other Recent News
18 Apr 2019

17 Apr 2019

16 Apr 2019

11 Apr 2019