ABI Research Analyst Leads Total Telecom Congress Conference Panel Session on October 30, 2018
Pablo Tomasi will Moderate 5G Panel Discussion
Oyster Bay, New York - 16 Oct 2018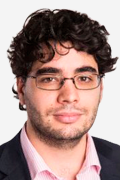 Pablo Tomasi
Senior Analyst

On October 30, 2018, during the Total Telecom Congress 2018 Conference, Pablo Tomasi, ABI Research's Senior Analyst, will moderate the platform discussion:
5G and the Industrialization of the Internet
Tuesday, October 30, 2018 – 14:30 BST
The panel discussion will include:
What new services will be enabled by 5G?
Commercialization of new 5G enabled services
New enterprise offerings: the IoT-Consumer services: VR/AR, video
Will 5G bring true digitization of the economy and society?
To learn more about the session, click here. For more information about the Total Telecom Congress 2018 Conference, click here.
About ABI Research
ABI Research provides strategic guidance for visionaries needing market foresight on the most compelling transformative technologies, which reshape workforces, identify holes in a market, create new business models and drive new revenue streams. ABI's own research visionaries take stances early on those technologies, publishing groundbreaking studies often years ahead of other technology advisory firms. ABI analysts deliver their conclusions and recommendations in easily and quickly absorbed formats to ensure proper context. Our analysts strategically guide visionaries to take action now and inspire their business to realize a bigger picture. For more information about ABI Research's forecasting, consulting and teardown services, visionaries can contact us at +1.516.624.2500 in the Americas, +44.203.326.0140 in Europe, +65.6592.0290 in Asia-Pacific or visit www.abiresearch.com.
Contact ABI Research
Media Contacts:
Americas +1.516.624.2542
Europe +44.(0).203.326.0142
Asia +65.6592.0290
Other Recent News
26 Mar 2019

21 Mar 2019

20 Mar 2019

19 Mar 2019