ABI Research Analyst Leads e-SIM Connect 2018 Conference, November 6th, 2018
Phil Sealy to Moderate "Deploying eSIM strategies and business models on a Group wide level"
Oyster Bay, New York - 30 Oct 2018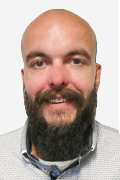 Phil Sealy
Principal Analyst
On November 6th, 2018, during e-SIM Connect 2018 Conference, Phil Sealy, ABI Research's Principal Analyst will moderate the platform discussion:
"Deploying eSIM strategies and business models on a Group-wide level."
Tuesday, November 6, 2018 - 9:55 am (GMT)
The panel discussion will include:
Discussing the planning and logistics required for major telco groups to deploy eSIM
Will eSIM be implemented simultaneously globally or will this be done gradually?
Where on the level of urgency does eSIM sit compared to other advancements i.e. 5G, quality, customer service, etc.?
"The source of power for customer ownership."
Tuesday, November 6, 2018 - 17:20 (GMT)
This fireside chat session will include:
Discussing the key components that make up the secure element of the eSIM – is the eSIM more than a secure cellular communications enabler?
With the development and deployment of greater eSIM enabled devices, how will they be managed – How will this change/disrupt the ecosystem as we know it today?
What additional services could OEMs hook onto the back of eSIM ownership? - secure billing, OTT services, and security?
To learn more about the session, click here. For more information about the e-SIM Connect 2018 Conference, click here.
About ABI Research
ABI Research provides strategic guidance for visionaries needing market foresight on the most compelling transformative technologies, which reshape workforces, identify holes in a market, create new business models and drive new revenue streams. ABI's own research visionaries take stances early on those technologies, publishing groundbreaking studies often years ahead of other technology advisory firms. ABI analysts deliver their conclusions and recommendations in easily and quickly absorbed formats to ensure proper context. Our analysts strategically guide visionaries to take action now and inspire their business to realize a bigger picture. For more information about ABI Research's forecasting, consulting and teardown services, visionaries can contact us at +1.516.624.2500 in the Americas, +44.203.326.0140 in Europe, +65.6592.0290 in Asia-Pacific or visit www.abiresearch.com.
Contact ABI Research
Media Contacts:
Americas +1.516.624.2542
Europe +44.(0).203.326.0142
Asia +65 6950.5670
Other Recent News
18 Apr 2019

17 Apr 2019

16 Apr 2019

11 Apr 2019