ABI Research Analyst Joins Singapore International Robo Expo Conference on November 2nd , 2018
Lian Jye Su will Present and Panel on "Robotics Landscape in Singapore and Beyond"
Oyster Bay, New York - 29 Oct 2018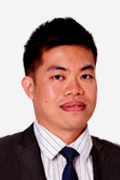 Lian Jye Su
Principal Analyst

On November 2nd, 2018, during the Singapore International Robo Expo Conference, Lian Jye Su, ABI Research's Principal Analyst, will speak about the robotics competitive landscape and will illustrate the significant development and advancement in industrial and commercial robotics, significant breakthroughs in critical components, and how key verticals such as manufacturing, logistics, and healthcare are reaping the benefits of robot workers.

Lian will also be joining the panel discussion:

"Robotics Landscape in Singapore and Beyond"
Friday, November 2, 2018 – 11:30 am
Today, many successful businesses are relying on sharing resourced and collaboration as their business model. Technology is the critical enabler for such sharing and cooperation! Robotics technology has more complexity and deeper tech involvement; this makes collaboration more challenging and uncertain. ABI research has spent more than six months exploring the various approaches to facilitate cooperation within the robotics industry and with the various relevant stakeholders.
To learn more about the session, click here. For more information about the Singapore International Robo Expo Conference, click here.
About ABI Research
ABI Research provides strategic guidance for visionaries needing market foresight on the most compelling transformative technologies, which reshape workforces, identify holes in a market, create new business models and drive new revenue streams. ABI's own research visionaries take stances early on those technologies, publishing groundbreaking studies often years ahead of other technology advisory firms. ABI analysts deliver their conclusions and recommendations in easily and quickly absorbed formats to ensure proper context. Our analysts strategically guide visionaries to take action now and inspire their business to realize a bigger picture. For more information about ABI Research's forecasting, consulting and teardown services, visionaries can contact us at +1.516.624.2500 in the Americas, +44.203.326.0140 in Europe, +65.6592.0290 in Asia-Pacific or visit www.abiresearch.com.
Contact ABI Research
Media Contacts:
Americas +1.516.624.2542
Europe +44.(0).203.326.0142
Asia +65 6950.5670
Other Recent News
18 Apr 2019

17 Apr 2019

16 Apr 2019

11 Apr 2019