Smart label technology is maturing. The next stage, successful commercialization, is about to begin, and presents a multitude of challenges.
Registered users can unlock up to five pieces of premium content each month.
| | |
| --- | --- |
| More Smart Label Products, First Smart Label Adopters | NEWS |
---
Innovations around smart labels continue to gather pace. So far, Short-Range Wireless (SRW) smart labels have seen the most traction thanks to their low price and their comparative manufacturing simplicity. Wide Area Network (WAN) devices, by contrast, have proven more elusive, primarily because of the difficulty of scaling printed or paper battery technologies that can support the higher current requirements of Low-Power Wide Area (LPWA) technologies. ZiFiSense is one of the few WAN smart label companies to have successfully scaled a product thanks to its proprietary ultra-low power ZETA protocol. For others operating on cellular (primarily Narrowband Internet of Things (NB-IoT) and LTE-M) and unlicensed networks (a number of initiatives use LoRaWAN and Sigfox), the challenge has been more significant, and devices are not expected to start to reach mass commercialization before the end of 2024.
The engineering challenges have not deterred companies from pursuing a product with clear transformational potential. In June alone, several companies that have had behind-the-scenes projects have made public announcements about them:
RAKwireless announced in June its partnership with Trackpac, a LoRaWAN device manufacturer, on a "limited run" of 300 sticker trackers. The label is able to measure temperature, uses non-Global Navigation Satellite System (GNSS)-based technologies (using Trackpac's proprietary location engine), and is able to function on the Helium network, as well as on operator LoRaWAN networks.
Also in June, European Sigfox operator Heliot announced its SubReach smart seal device for a variety of logistics use cases requiring monitoring or location information.
Walbing, a finance and insurance technology provider, announced that it is working with Pod Group and Lufthansa Industry Solutions (LHIND) to offer smart labels to simplify payments using IoT technology.
In addition, ABI Research is aware of several other initiatives that are not yet public through which previously impossible innovative services will be created by means of WAN smart labels.
| | |
| --- | --- |
| Understanding the Use Cases | IMPACT |
---
The smart label market is currently undergoing an important phase of development. The period 2022 to 2023 has seen steps in the right direction toward engineering and scaling production of these labels, across both SRW and WAN technologies. These have included label and tag printing companies like SATO, Toppan, and Zebra announcing their intentions to produce smart labels based on a range of wireless technologies; Embedded Subscriber Identity Module (eSIM) or Integrated Subscriber Identity Module (iSIM) vendors like Kigen, Onomondo, and Pod Group joining partnerships to facilitate the provisioning of devices which, more than most, require foolproof simplicity; and device manufacturers like SODAQ, Sony, Sensos, Kyocera, and several others announcing devices ready for use.
So far, engineering and production has been one of the central questions, given the requirements for new technologies to be developed to support these labels. These issues persist, but increasingly the conversation is beginning to shift further toward use cases. As the ecosystem for producing smart labels develops, enterprises are able to start building use cases and services that these smart labels are, for the time being, good enough to support.
ABI Research identified key use case categories in which smart labels will play a role. These lie primarily in the supply chain, but roles within the supply chain are highly varied: while basic use cases include location tracking and monitoring, the value—as in all IoT use cases—lies within the services that can be layered on top. Billing and financial use cases will be a highly valuable use case for WAN smart labels to start with: these could be consigned inventory, billing automation, or insurance types of use cases. Many of the prime adopters of the technology will be logistics service providers of various descriptions: UPS and DB Schenker are among those that have signaled interest in smart label technologies, while Kuehne + Nagel, working with Tag-N-Trac, has even noted that it was willing for smart labels to be a "loss-leader" for them as they look to bring the technology to scale.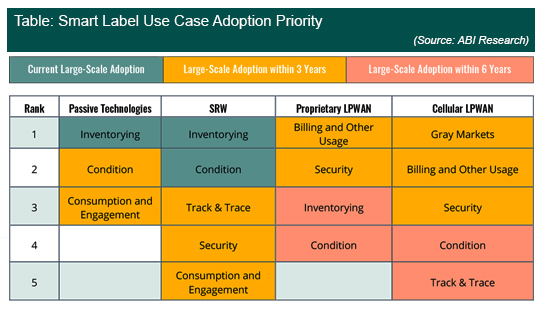 | | |
| --- | --- |
| Moving from Technology Development to Commercialization | RECOMMENDATIONS |
---
Smart labels are still at an early stage of development. Many companies producing labels or label prototypes are not clear on the full range of use cases that this technology will enable, and are happy to wait for customers to dictate the specifics. In many instances, use cases will be very specific to a customer, and designs will have to be adapted accordingly. Many of the projects currently underway are semi-custom Proofs of Concept (POCs) that may eventually form a blueprint for more off-the-shelf designs, but development costs remain high given the ongoing required modifications on the hardware front. The cost of devices already varies significantly based on the technology protocol used, but on the cellular side, expectations are for initial pricing to be between US$15 and US$20. As use cases are worked out, hardware designs become more standardized, and scalability becomes assured, so the declining price point on devices will enable a growing diversity of use cases.
While the supply side ecosystem is coming together, much work remains on the demand side. Vendors must focus on understanding use cases and technology requirements for those use cases. They must also understand the specific requirements of each industry and how this will affect technology features. They must assemble broad ecosystems that will allow a solution to generate value. And they must work on reliability to ensure that sophisticated use cases like payments automation are not based on flawed technology premises.
In many ways, developing the technology can be described as the "easy" bit. The number of variables that accompanies commercializing the technology makes this an altogether more complicated business.