Most traditional satellite payloads for signal processing have been "transparent" instead of "regenerative." The most common concerns with regenerative payloads have been future-proofing, power consumption, and cost. In this way, due to the rigid physical layer interface and lack of compatibility between equipment from different vendors, regenerative satellite payloads risk rapid obsolescence with the emergence of new transmission standards and developments in Radio Frequency (RF) waveforms. The application of Software-Defined Radio (SDR) architecture and techniques has been considered a path to alleviating these risks.
Registered users can unlock up to five pieces of premium content each month.
| | |
| --- | --- |
| OneWeb and ESA Launch Satellite with Next-Gen Payload | NEWS |
---
Low Earth Orbit (LEO) satellite operator OneWeb, and the European Space Agency (ESA) recently confirmed the successful launch of an advanced digital beam-hopping broadband satellite in LEO code-named JoeySat, which can provide capacity and link budget for different locales on Earth up to 1,000 times per second. By leveraging electronically steered multi-beam arrays and digital beamforming, JoeySat's satellite payload will be able to demonstrate "digital regenerative processing," which regenerates user, gateway, and inter-satellite links. This improves performance, reduces latency, supports mesh connections, and improves power usage. This payload decouples the user and gateway links so that modulation and demodulation are done in the payload instead of the ground and reduces the number of required forward links by 3X, improving return link efficiency by 5X. As a result of improving spectral efficiency and reducing the number of gateway locations, regenerative payloads have been estimated to achieve greater than 60% of Capital Expenditure (CAPEX) and Operational Expenditure (OPEX) savings on ground infrastructure at full deployment.
| | |
| --- | --- |
| Digital Regenerative Payloads Are a Boon for the Satellite Communications Industry | IMPACT |
---
The successful demonstration of JoeySat's capabilities leveraging a fully regenerative software-defined payload is a boon for the evolving satellite industry and its convergence with the telecommunications industry. Traditionally, satellite payloads have taken the form of digital transparent payloads, with the satellite acting as a relay for network radio base station transceivers (gNodeB) on the Earth. In this way, the satellite acts as a frequency repeater for both feeder and service links, and transmits only an amplified version of the signal. For signal processing, these payloads leverage digital transparent transponders, with signals converted as part of the digital back end onboarded on Commercial Off-the-Shelf (COTS) Field Programmable Gate Arrays (FGPAs) that are, by design, reconfigurable and able to cope with evolving modulations, protocols, and formats.
With regenerative payloads, incoming signals are "regenerated" with signal processing techniques and remove the attenuation effects in the uplink before downlinking to user terminals. With work being done by The 3rd Generation Partnership Project (3GPP) on 5G Non-Terrestrial Networks (NTNs), base station functionality is moved onto the satellite, allowing it to be a Distributed Unit (DU) or a full gNB (base station). For onboard processing, demodulators, decoders, encoders, and modulators are required, often employing custom-designed Application-Specific Integrated Circuits (ASICs). In this regard, deploying regenerative payloads is more rigid and presents long-term adaptability risks, as ASICs are not reprogrammable and require hardware replacement to accommodate different radio protocols, Digital Signal Processing (DSP) algorithms, and even Artificial Intelligence (AI). In this way, software-defined implementations of onboard processing would help Satellite Communications (SatCom) operators overcome some of the challenges inherent in satellite operations.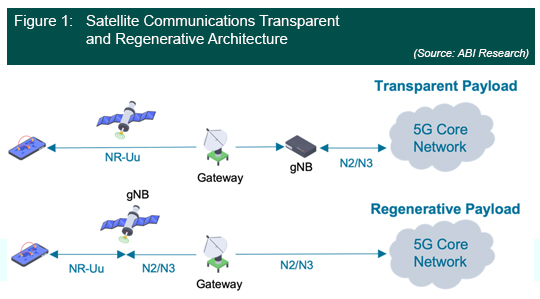 Remarkably, JoeySat's payload is fully digital, built using COTS components, and fully reconfigurable in orbit. This appears to be an evolution with SatixFy's current solution for regenerative payloads, which leverages the SX4000 regenerative processor ASIC. With this processor, the Software Defined Radio (SDR) architecture and techniques are applied to the payload and ground stations. In this way, the payload remains regenerative, but offloads functionality and complexity to the ground segment. While it is unclear what processors JoeySat is using, they are capable of being reprogrammed and upgraded to deliver new and improved services.
| | |
| --- | --- |
| Assess the Opportunity of Regenerative Architectures | RECOMMENDATIONS |
---
Given the deployment of more dynamic and future-proof payloads like JoeySat's, the transition from proprietary to more software-defined and standardized designs in the satellite space is accelerating. This will have a positive impact on the unification of SatCom and terrestrial telecommunications services and technologies. In this way, SatCom players can enhance the interplay of terrestrial networks and NTNs and technologies by:
Exploring Software-Defined Payloads: Consider adopting fully regenerative software-defined payloads akin to JoeySat. These payloads offer the advantages of adaptability and reconfigurability, enabling operators to cope with evolving modulations, protocols, formats, and technological obsolescence over longer operational lifetimes. Emphasize the use of COTS components and software-defined implementations for onboard processing to enhance flexibility and reduce long-term adaptability risks.
Leverage SDR Architecture: Investigate the use of SDR architecture and techniques for regenerative payloads. By splitting air interface functionalities between the ground segment and space segment, operators can offload complexity and functionality to the ground segment, while still maintaining a regenerative payload. This approach allows for more efficient signal processing and modulation capabilities, accommodating different radio protocols, DSP algorithms, and even Artificial Intelligence (AI).
Consider Network Cells on Satellite Payloads: Assess the feasibility and potential use cases of deploying network cells on satellite payloads using regenerative architecture. With the ongoing work by 3GPP on NTNs, with the NR-Uu interface operating on the service link and N2 and N3 operating over a satellite radio interface on the feeder link, the possibilities of integrating network cells (NodeBs) as satellite payloads is enticing. This approach can provide enhanced connectivity and coverage, particularly in areas with limited terrestrial infrastructure, and support emerging technologies like 5G and NTN mobile applications.
JoeySat's high degree of reconfigurability and beam-hopping capabilities position it as a transformative solution for SatCom segments that demand efficient transmission of vast volumes of information to users, like with satellite backhaul and even 5G NR-NTN. By employing a software-defined, fully regenerative payload that dynamically manages spectrum resources, JoeySat provides a glimpse of future satellite systems. A software approach can empower SatCom providers to adapt swiftly and effectively to changing conditions, facilitate high-quality and seamless communication, and enhance overall operational efficiencies. What's more, it makes the case for network cells that can be deployed on satellite payloads via a regenerative architecture, such as the work being done by the 3GPP on NTN, more feasible.