Starlink stoked the satellite-to-cell market by launching 54 satellites in December for its new Gen2 constellation, which is slated to deliver satellite-to-cell capabilities in the future. With Starlink and Apple showing their willingness to enter this newly emerging market, Satellite Communications (SatCom) and telco operators have many factors to consider in pledging their allegiances.
Registered users can unlock up to five pieces of premium content each month.
| | |
| --- | --- |
| Starlink Begins Deploymemt of New Constellation with Launch of 54 Gen2 Satellites | NEWS |
---
Starlink's new second generation constellation of Low Earth Orbit (LEO) satellites (Gen2) has officially begun deployment with the successful launch of 54 new satellites (at 530 Kilometers (km) altitude, 43-degree inclination) on Starlink Group 5-1 on December 28, 2022. These new satellites are the first of Starlink's recently approved 7,500-strong Gen2 constellation, (operating at 525, 530, and 535 km altitudes and 33,43, and 53-degree inclination orbital shells), which is in addition to its currently approved 4,425 Gen1 LEO satellites (which operate at 1,200 Km). This new constellation aims to not only provide more capacity to the Starlink network, but enhanced performance and service capabilities. In this respect, while the application is still pending U.S. Federal Communications Commission (FCC) approval, the Gen2 constellation intends to integrate SpaceX's direct-to-cellular system for direct-to-cell services at the 1,910 – 1915 MHz and 1,990 – 1,995 MHz bands.
While Gen2 was meant to be launched on the company's upcoming Starship, a fully reusable super heavy-lift launch vehicle (100-ton payload capacity), technical delays have driven the company to launch on Falcon 9 rockets, for now, something critics believed would not happen with the Gen2 constellation. This launch shows that Starlink and SpaceX will not wait until Starship is ready to begin launching the Gen2 constellation and will be able to launch satellite-to-cell services immediately upon the FCC's approval. In this way, SpaceX is signaling to competitors that it has a growth engine to fully deploy the constellation and its new capabilities by its target date of mid-2024.
| | |
| --- | --- |
| LEO Will See Significant Growth in Capacity, Subscriptions, and Services | IMPACT |
---
LEO will continue to see significant growth and deployment of constellations from the communications sector. With around 3 to 4 launches made every month in 2022 by SpaceX, and deployment of about 50 satellites per launch, we can expect at least 1,800 to 2,400 new LEO satellites to come online in 2023. Alongside this, while the United States is the global leader in satellite launches, we can expect to see more deployments from China as it aims to deploy the LEO global broadband mega constellations, Guowang (GW-A59 and GW-2) and Yinhe, that would bring online around 14,000 satellites. To reflect these developments, ABI Research forecasts that subscribers using LEO satellite services will reach 2.4 million in 2023 and the global number of LEO satellites approved for deployment will reach more than 30,000 by the end of the decade (based on currently planned constellation deployments).
Furthermore, the emerging satellite-to-cell service segment is picking up momentum as players such as Apple, Huawei, SpaceX, Globalstar, AST SpaceMobile, and Lynk are accelerating the launch of services. On one hand, some SatCom operators are partnering with telecommunications operators (telcos) to offer services, while on the other hand, some SatCom players are partnering with mobile phone manufacturers. The major players and partnerships of this emerging segment can be seen in Figure 1 below.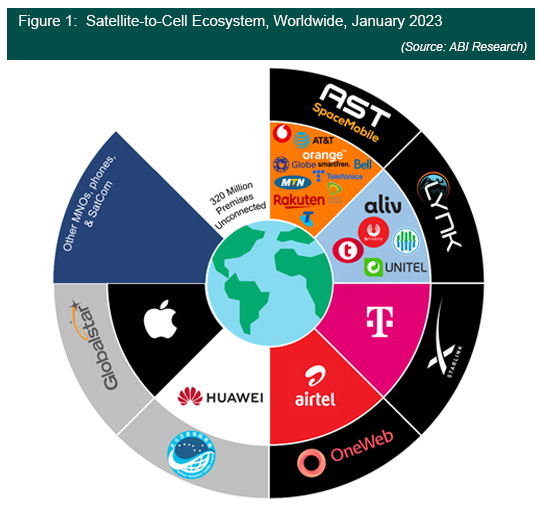 Starlink's launch comes hot on the heels of Apple's recent communication terminal patent acquisition that aims to connect Apple devices with satellites via IEEE bands Ka, Ku, K, V, W, X, C, ISO Q, and other desired bands to unlock media, voice, and Internet data services. In its current form, Apple has only recently launched satellite emergency SOS and location tracking services with GlobalStar to hold over consumers for the next 2 years. Alongside this, satellite operators Lynk and AST SpaceMobile are looking to launch or begin the process of launching services soon and are quickly partnering with telcos. The increased activity from Apple and Starlink will galvanize this activity and likely drive other players to quickly seek new alliances. Iridium, for instance, recently entered into a service agreement with an unnamed partner (believed to be Samsung) to connect its 66-strong LEO satellite constellation to smartphones. To this end, the market opportunity for this segment remains strong, as we anticipate that the worldwide Service Addressable Market (SAM) potential for SatCom services will reach 320 million premises this year (2023).
| | |
| --- | --- |
| Wait for Capacity to Come Online | RECOMMENDATIONS |
---
At its current stage, satellite-to-cell services are available for specialized applications, but show upside potential in the years to come, with 2023 and likely 2024 being used to prime consumer interest. In this respect, ABI Research anticipates in our recently published market research report, SatCom Constellations: Deployments & Subscriptions, that the wider Non-Terrestrial Network-Mobile (NTN-Mobile) service segment, which includes the satellite-to-cell segment, will reach 6.8 million connections by 2027. The potential adoption could be higher still, but a number of technological hurdles still need to be overcome. Despite this, NTN-Mobile constellations are just starting to be launched and need several years before revenue will be generated, with most still testing the technology and performance. In this respect, as these SatCom networks come online, their capacity and performance will be put to the test as potentially millions of users gain access. SatCom has historically sent many companies into bankruptcy due to its capital intensity, and while technology and costs have improved dramatically, this should remain a cautionary tale about the realities of launching new space networks. There is still time to evaluate the players in this market and determine who will be able to deliver on promises to their customers and partners.