The FCC has finally approved standard power 6 GHz transmission—but why is it so significant, and how can organizations exploit its potential?
| | |
| --- | --- |
| FCC Green Lights Standard Power 6 GHz | NEWS |
---
After a protracted multi-year wait, on November 2nd the Federal Communications Commission (FCC) of the USA finally gave the gave the go-ahead to thirteen Automated Frequency Coordination (AFC) database systems, which are essential for standard power operations in the 6 GHz band. The FCC's approval, the first regulator in the world to do so, is a major development in Wi-Fi technology, as the higher power transmissions unlocked by AFC can deliver much improved range and performance for 6 GHz-enabled Wi-Fi 6E and Wi-Fi 7 equipment. With standard power 6 GHz now authorized, what opportunities does it present for the industry?
| | |
| --- | --- |
| What is AFC and Why Does it Matter? | IMPACT |
---
In Q2 2022, the FCC unleashed a Wi-Fi revolution by allocating the 6 GHz band (5925–7125 MHz) for unlicensed use, heralding a doubling of the available spectrum for Wi-Fi, making vastly improved throughputs and latency speeds possible. In the years since Wi-Fi 6E, the first standard to enable 6 GHz operation, has seen rapid adoption with a cumulative 8.6 million 6 GHz-enabled Wi-Fi 6E Access Points (Aps) being shipped for both the consumer and enterprise verticals to date. Yet to avoid causing interference for the 6 GHz spectrums existing incumbents, deployments have all been required to transmit at power levels no higher than 30 dBm (decibel-milliwatts), in what is termed Low Power Indoor (LPI) operation. Certain environments permit just Very Low Power Indoor (VLPI) transmission, which is 14 dBm. This is sufficient for indoor applications, but is deemed inadequate for the requirements of outdoors, which demands 36 dBm power (dubbed 'Standard power') for range and performance. Outdoor 6 GHz transmission has been curtailed as a consequence. For example, in the world's largest Wi-Fi 6E deployment at the University of Michigan (with over 15,500 Aruba Networks Wi-Fi 6E APs), the outdoor APs are only operating on Wi-Fi 6 in the 5 GHz band.
To resolve the incumbent interference issue, prior transmission a database lookup scheme will be referenced to first certify that equipment is permitted to operate at that locality in the 6 GHz spectrum at standard power. Channel availability will depend on whether incumbents are operating nearby, and other relevant policy constraints. The form of this database will vary country by country, but the US version, which is at the vanguard and whose model will ultimately be emulated by other regions, will be known as Automated Frequency Control (AFC). The architecture for AFC is illustrated in Figure 1. Managing the database and certifying transmissions will be the job of AFC Operators, and in early November the FCC conditionally approved thirteen companies for this role. These include Broadcom, Comsearch (Commscope), Federated Wireless, Google, Key Bridge Wireless, Kyrio (Cable Labs), Sony Group, Nokia Innovations, Plume, Qualcomm, Red Technologies, Wi-Fi Alliance, and the Wireless Broadband Alliance (WBA). This list includes all those who filed AFC Operator submissions prior to the FCC deadline at the end of 2021, with the exception of Amdocs, although it is unclear why this was the only company to not make the cut. Final approval for each AFC Operator is contingent upon passing both controlled and public testing over the coming months.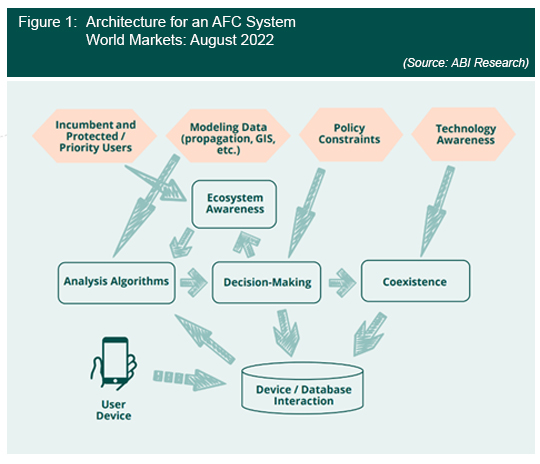 Standard power 6 GHz Wi-Fi 7 has the potential to deliver sixty-three times higher transmission power vis-à-vis low power indoor (LPI) Wi-Fi 6E. This greater power translates into considerable improvements in Wi-Fi performance and range, advancements which will act to erode some of 5G's advantages over Wi-Fi in outdoor settings. It is generally understood that standard power 6 GHz will be able to attain the equivalent of 5 GHz range, meaning that organizations can use the same deployment infrastructure to upgrade from 5 GHz seamlessly and cheaply to 6 GHz equipment. The greatest potential for standard power 6 GHz Wi-Fi is in networks that cover expansive outdoor areas, including large public venues and campus deployments, and especially those which straddle indoors and outdoors, such as warehouses. The high demand from these verticals, alongside the ease of incorporating Standard power 6 GHz into existing networks, will result in the rapid growth of enterprise networks deploying standard power Wi-Fi 6E, and later Wi-Fi 7, over the coming years. ABI Research forecasts that 2023 will see just over 1,300 network deployments leverage Standard power APs (both Wi-Fi 6E and Wi-Fi 7). Thereafter deployments will rise rapidly, increasing from a little over 50,000 in 2024 to an excess of 300,000 in 2028. Due to favorable regulatory environments, deployments will be concentrated in certain regions, including North America, and developed East Asian economies, such as South Korea. Europe will see relatively the low numbers of deployments, unless the power level regulation becomes more favorable, and the European Conference of Postal and Telecommunications concludes to expand unlicensed access from just the lower portion of the 6 GHz band (5925 – 6425 MHz) into the upper portion also (6425 – 7125 MHz).
| | |
| --- | --- |
| How to Exploit Standard Power 6 GHz | RECOMMENDATIONS |
---
As was the case with the allocation of the 6 GHz band back in early 2022, the FCC has been the first to approve AFC operation and has importantly set a model for others to emulate. Countries which can be expected to soon follow suit include Saudi Arabia (the site of the first demonstration of Standard power 6 GHz utilizing AFC), as well as Canada, Brazil, and New Zealand, whose national regulators have been exploring AFC proposals for many months now. Yet there remains the possibility that many national regulators may overlook the potential of standard power 6 GHz, and so there are several steps that the industry must take to ensure AFC approval remains at the top of their agenda.
At a global level, industry associations and the ecosystem vendors should conduct numerous trials to showcase the enhanced capacity and economic opportunities that Standard power 6 GHz offers. At a national level, potential AFC operators should apply for experimental/provisional licenses to demonstrate their systems in controlled environments, highlighting the feasibility of AFC in avoiding incumbents. There is also the potential to leverage standard power 6 GHz to make a stronger case for the allocation of the entire 6 GHz band in markets which have yet to do so. Consider the example of the EU mentioned above—if the entire 6 GHz band were to be released for unlicensed, then the benefits of the expanded spectrum would be multiplied should Standard power outdoors also be permitted.
There is good news for organizations looking to harness the power of Standard power 6 GHz today, as there are already a plethora of standard power-ready APs on the market from numerous vendors. The Aruba 650 Series offers a 7.8 Gbps peak data rate, up to 2,048 simultaneously connected client devices, three 4X4:4 radios, and integrated Bluetooth 5 and 802.15.4 radios for Zigbee. The AP also supports OpenRoaming for seamless handover from cellular, and Aruba AirMatch provides dynamic bandwidth adjustments to support changing device density, enhanced roaming using an even distribution of Effective Isotopic Radiated Power (EIRP) to radios, and real-time channel assignments to mitigate co-channel interference. The Extreme Networks AP5050, launched in August 2022, claims to be the industry's first Wi-Fi 6E Outdoor AP that is optimized for deployments in harsh outdoor venues (IP67 rated). Aggregate data rates up to 10 Gbps can be achieved, with up to 1,536 simultaneous client devices, three 4X4:4 radios, and an integrated BLE radio. The AP supports on-premises operation through WiNG OS, while the Cloud Management Solution ExtremeCloud IQ enables simplified and secure public or private cloud management capabilities. Both of the above employ multiband filters to reduce 5 GHz and 6 GHz interference. Further, in October 2022 Cambium Networks announced the tri-radio Wi-Fi 6E XE3-4TN Outdoor AP, which can deliver a 6.6 Gbps aggregate data rate. Future Standard power 6 GHz APs are sure to follow the FCCs recent AFC decision.
For the equipment vendors themselves, particularly those targeting enterprise, they should ensure that they have in their production roadmap hardware which will cater to the standard power 6 GHz demand. The capability of handling higher power levels alone is not the only requirement though, as geo-locating will be a key requirement for compatibility with AFC databases. For example, the Aruba AP-655 Wi-Fi 6E APs employ a combination of GPS and a proprietary real-time location technology called 'Fine Timing Measurement' to allow the APs to self-locate. This technology was on display at the first demonstration of Standard power 6 GHz utilizing the AFC database lookup scheme, which was conducted by Saudi Arabia's telecom regulator Communications and Information Technology (CIT) in August 2022. The AFC System itself could also serve as a key differentiator from the competition. Whilst the AFC services themselves will mostly be free, there is the potential to enhance the standard database lookup with features such as advanced dynamic channel selection, which could unlock greater channel availability than rudimentary AFC databases.
The next step is market education and go-to-market. While the greater range and performance may be easy to graph for enterprises, it is important that the industry also drives home the other important advantages that standard power 6 GHz offers over competing technologies. These include seamless integration into existing Wi-Fi networks, the ability to reuse existing deployment infrastructure, and software-defined radios, which could in theory transmit at 5 GHz until sufficient client demand for 6 GHz emerges. Moreover, as the greatest potential for standard power 6 GHz is to be found in enterprise and industrial environments, partnerships should be initiated and/or deepened with integrator partners who are serving these industries.