MediaTek's Wi-Fi 7 Filogic 380 and 880 chipsets differentiate themselves from the competition by launching with a host of technical innovations.
Registered users can unlock up to five pieces of premium content each month.
| | |
| --- | --- |
| Unique Technical Innovations Help MediaTek Stand Out from the Crowd | NEWS |
---
On May 22nd, MediaTek unveiled its first Wi-Fi 7 chipsets, the Filogic 380 and Filogic 880. The former is targeted at consumer devices, has dual two-by-two tri-radios, and can deliver peak PHY rates of 6.5 Gbps, while the latter can deliver tri-band four-by-four with a peak 19 Gbps PHY rate for residential access points. Given that the announcement followed three successive Wi-Fi 7 chipset releases in as many months, MediaTek faced an uphill struggle to stand out from the crowd. Thus, to turn heads, MediaTek focused on a slew of advanced technological features that distinguished its offering from what came before. These included Single-MAC design Multi-Link Operation (MLO), which promises to reduce latency to just 100 microseconds (μs), and a scaled up Penta-band version of the Filogic 880 being able to deliver an eye-watering 36 Gbps PHY rate. The innovative technical features of the Filogic 380 and 880 chipsets have not only confirmed MediaTek's position as a leading Wi-Fi chipset innovator but have also raised the bar for the competition.
| | |
| --- | --- |
| The Wi-Fi 7 Road So Far.... | IMPACT |
---
Qualcomm fired the Wi-Fi 7 chipset starting pistol at MWC 2022 with its unveiling of the FastConnect 7800, a client solution promising peak data rates of 5.8 Gbps and latency times of 2 ms. Following hot on Qualcomm's heels was Broadcom, who in April 2022 announced the first complete ecosystem of Wi-Fi 7 chipsets, comprised of two chipsets each for both residential and enterprise access points, alongside one for mobile handsets. Not to be outdone, Qualcomm in early May released details of its enterprise-grade Networking Pro Gen 3 series of two tri-radio chipsets and quad-radio chips. Finally, MediaTek joined the party with the Filogic 380 and Filogic 880, which are targeted at client devices and access points, respectively. A breakdown of all the Wi-Fi 7 access point chipsets which have been introduced to date can be found in Table One. As the standard has yet to be certified by the Wi-Fi Alliance, these are all pre-draft chipsets, but all the same every chip comes equipped with support for the key Wi-Fi 7 features, such as both uplink and downlink OFDMA and MU-MIMO, 4K QAM modulation, and MLO.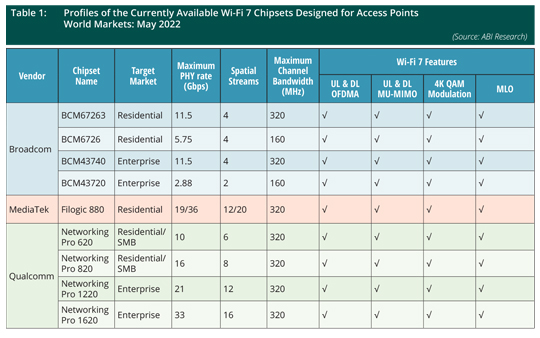 Accompanying each Wi-Fi 7 chipset announcement so far has been the introduction of new and exclusive technical features which have helped distinguish the chipset from the competition. Qualcomm's FastConnect 7800 was positioned as one constituent part of the company's new 'Snapdragon Connect' product line (for devices that offer Best-In-Class 5G, Wi-Fi, and Bluetooth connectivity), and came equipped with Qualcomm's new Dual Bluetooth and Snapdragon Sound technologies. The company's enterprise-grade Networking Pro chipsets were also unique in their support for regions without 6 GHz access, though the provision of 240 MHz channels on the 5 GHz band. Broadcom's two enterprise chipsets were better suited to industrial environments with their capability to operate in temperature environments ranging from -40°C to 85 °C, and the BCM43720 has an additional radio dedicated for scanning in the 2.4 GHz, 5 GHz, or 6 GHz bands, something not found in any of the other currently disclosed chipsets.
The trend continued with MediaTek, whose release made waves by focusing on a slew of technical innovations that helped it stand out from the crowd. The first of these was MediaTek's Single-MAC design chips that eliminate the need for inter-chip synchronization between the different radio bands. MediaTek claims that a Single-MAC chip is able to reduce MLO latency from the over 10 milliseconds (ms) possible with a multi-MAC MLO design to just 100 microseconds (μs). Alongside this, MediaTek also introduced the Penta-Band (five band) functionality of its Filogic 880 chipset, which claims to be able to deliver an eye-watering 36 Gbps peak PHY speed. The complex wizardry underpinning this feat can be summarized as the use of separate chips for both the front and back-haul, with the tri-band four-by-four fronthaul utilizing MLO communication with Wi-Fi 7 clients to achieve 19 Gbps, while the back-haul for mesh networking will have dedicated MLO leveraging 5 GHz and 6 GHz spectrum bands transmitting 17 Gbps. Other highlight features of the Filogic 880 include Multiple Resource Unit (MRU) support and a separate antenna to detect interference.
| | |
| --- | --- |
| The Road Ahead Will be Charted by Innovators | RECOMMENDATIONS |
---
There are several key factors driving the heightened emphasis on the unique technological innovations of recent chipset announcements. Chief among these is the greater chipset specialization that is required to adequately serve the increasing complexity of both residential and enterprise Wi-Fi networks. This has been evidenced by the Wi-Fi 7 chipset announcements over recent months, where unique technical features have been introduced with a specific use case in mind. For example, Qualcomm's 240 MHz bands on the 5 GHz spectrum are intended for markets without access to the 6 GHz band, the dedicated scanning radio in Broadcom's BCM43720 is designed for assessing network performance in enterprise environments, and MediaTek's upscaled Penta-band Filogic 880 is targeted at high-capacity home mesh networking. At present, there are a multitude of developments in both the residential and enterprise markets which will further stimulate the need for more specialized chipsets. Some such trends include the proliferation of mesh networking and smart home hub APs in the home, and Automated Frequency Control (AFC) for outdoor standard power operation for enterprise. It is expected that the Wi-Fi 7 chipsets which will be announced in 2H 2022 and beyond to be equipped with advanced technological innovations which make them optimized for certain use cases.
The prominence given to the unique technological innovations of the released Wi-Fi 7 chipsets also reflects an acknowledgement on the part of the vendors that in an increasingly crowded and saturated market, generalized solutions are prone to becoming obscured. The success of future Wi-Fi 7 chipset announcements will likewise depend on the correct positioning of the chipset. This means clearly defining to the market the target applications that their chipsets are engineered for and explaining concisely how the unique technical innovations of their chipset make them optimized for the task.