NTT Docomo has announced their enterprise strategy—"Declaration Beyond"—as a key driver for promoting innovation and transforming business operations for the future. With growing success tied directly to the strategy's "Top Gun" teams, where Research and Development engineers work directly with internal marketing and sales and external business clients, the strategy looks promising.
Registered users can unlock up to five pieces of premium content each month.
| | |
| --- | --- |
| DOCOMO's Declaration for Transformation | NEWS |
---
Throughout the years, NTT Docomo has been a sizable player in Japan's telecommunications market, with over 83.8 million domestic subscribers and 20,000 5G base stations located throughout 500 cities. Despite the company's presence in the market, the company's portfolio of business lines has seen mixed results. Mobile revenue, equipment sales, and Average Revenue per User (ARPU) have been on the decline while mobile subscriptions and enterprise partnerships have increased to 84 million subscribers and to over 3,400 partners. With aggressive competition from Softbank and KDDI, the company has been placing its enterprise strategy—"Declaration Beyond"—as a key driver for the company's recovery. With the goal of transforming the business for the future, NTT Docomo aims to build a brand around six tenets that will create value through "excitement", "satisfaction", and "peace of mind", as well as for enterprise partners through "industry creation", "solving social issues", and developing "partnered businesses".
| | |
| --- | --- |
| A Promise to Customers and Partners | IMPACT |
---
While customer-focused solutions are helping drive up mobile subscriptions for NTT Docomo, the company is seeing a favorable shift in interest and utilization of its partner-focused business solutions. This has implications for the saturated telecommunications market and highlights a significantly growing business segment within the enterprise and partnership sector. At its core, the Declaration Beyond strategy is designed to deliver on six underlying initiatives, three customer-focused and three partner-focused, that will spearhead the organization's transformation. The results of these initiatives have been mixed to date.
With the customer-focused declarations, the company expands on value-added services through loyalty programs and campaigns like the "d POINT CLUB", specialized phone contracts like "Gigaho", exclusive rights to streaming platforms like Disney Deluxe, and leveraging 5G, Artificial Intelligence (AI), Virtual Reality (VR), and Internet of Things (IoT) for services such as Mobility as a Service (MaaS) AI-operated buses and taxis. Operating revenues and profits tied to the customer-focused-service dropped to JPY 2,735 billion (US$23 billion) and JPY 572.3 billion (US$4.8 billion) in Q3 FY2021.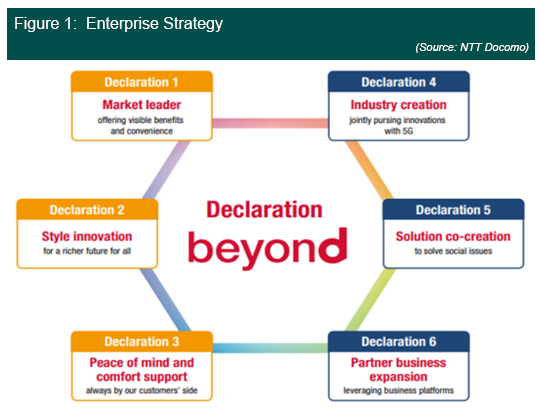 The enterprise partner-focused declarations have aimed at expanding services and products through a co-creation process, such as launching "Docomo Open Innovation Cloud" to support IoT and the commencement of 5G service solutions such as:
"AceReal" is a product line of smart accessories created in collaboration between NTT Docomo and Sun Corporation targeted for technical support operators in fields like IT, construction, and manufacturing that needs to provide on-site support remotely. All devices integrate an HD camera and voice system that allows a user to transmit their point of view (POV) and audio via 5G to a computer screen in real-time while providing hands-free operation for up to nine to ten hours. Some devices, like the "Ace Real One", include a Heads-Up-Display (HUD) so that a user may receive visual guidance in addition to audio.
"Virtual Design Atelier" is a virtual reality (VR) 3D design and collaboration solution created between Wacom Co, Ltd. and NTT Docomo that targets designers and engineers working in dispersed and remote locations. The solution bundles NTT Docomo's physical VR goggles, controllers, and virtual space alongside Wacom's 3D design software, "Gravity Sketch Enterprise Edition", into a solution that allows multiple users to create and edit 3D designs in real-time. While the solution can be used in 4G (LTE) environments, the use of 5G enables a larger amount of 3D design data, lower latency, and smoother rendering. The solution can be acquired for an initial fee of JPY 6 million (US$50,000) and an annual fee of JPY 14 million (US$118,000).
This segment has seen consistent growth over time, increasing from 18% to 23% of total revenues between Q3 FY2018 to Q3 FY2021, and now accounts for more than 26% of total profit. Through co-creation teams, dubbed "Top Gun" teams, which are comprised of Docomo's internal sales, marketing, and Research and Development (R&D) personnel working directly with external corporate clients, Docomo has enabled ongoing diversification of their enterprise solutions portfolio and surpassed their JPY 120 billion (US$1 billion) revenue target for FY2021. The success of Docomo's Top Gun teams shows what happens when smaller specialist teams are formed through this three-way partnership helping uncover the latent needs of customers, verify the business potential of an idea, and commercialize services to generate revenue.
| | |
| --- | --- |
| The Beyond is Engineer-Led and Partner-Focused | RECOMMENDATIONS |
---
The results of the partner-focused initiatives are promising for Docomo's Declaration Beyond strategy. The company is keen on deploying co-creation 5G solutions in the foreseeable future while carving out its share of the market. In Q1 FY2022 the company plans to launch Docomo Denki—electricity services powered 100% by renewable energy for consumers and producers, as well as several new solutions through the newly launched Small and Medium Enterprise (SME) marketplace. With these solutions and performance trends, there is evidence of a clear focus to innovate in the enterprise sector by building a direct working relationship between Docomo's R&D engineers, sales and marketing teams, and external clients that will help build value and partnerships that reach into new business solutions and markets. These strategies will enable companies, like NTT Docomo, to continue to tap into the 5G-to-Business (5G2B) market, which based on ABI research's own forecasts, predicts the Asia-Pacific region (APAC) market size for private and public networks to reach US$16.4 billion by 2026, accounting for a CAGR of 71.5%.
NTT Docomo is not the only Japanese telecommunications operator to see the benefits of a strategy that marries co-creation initiatives with engineers. Softbank has a partnership with Tokyo University called "Beyond AI", which is another initiative working to create synergy between 'real world' R&D and commercialization. Spearheading this is the company's "Cluster of No.1 Strategy", an approach that actively pursues synergies through investment in new technologies and companies that will actively work with Softbank in new business areas. Similarly, industry disruptor and telecommunications competitor, Rakuten, has a significant capital investment and incubation strategy that develops new products and services in other markets. A few of these include Rakuten Capital, which focuses on internet startups specializing in IT, software, FinTech, etc., Rakuten Farm, an agricultural service that delivers organic produce through online stores, and Rakuten AirMap, which develops and provides airspace management services for drones. Rakuten also has many other core businesses in commerce, communications, and energy, and FinTech that leverage knowledge experts to build out new business lines.