ABI Research reports that ZTE is shipping a home-grown LTE modem inside one of its own LTE USB dongles. The ZTE ZX297502 is a second-generation LTE modem from ZTE. Jim Mielke, VP of engineering at ABI Research, comments, "ZTE recently announced the WiseFone 7510 LTE modem for release early this year but the 7510 is a third generation LTE chip. The first generation was mainly a prototype; the second generation was the first real production chip and is certainly the basis for the 28nm 7510 scheduled to be released early 2014." The ZX297502 is strictly a modem baseband; it is accompanied by ADI and ACP transceivers, and a TI power management unit (PMU).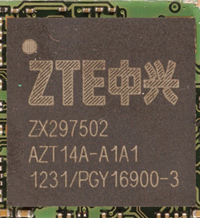 A complete teardown of the ZTE LTE chipset and accompanying chips is available from ABI Research's Teardown Service. The full teardown includes a complete bill of materials w/cost estimates, high resolution dismantling and board photos, and component die photos and X-rays.
ABI Research provides in-depth analysis and quantitative forecasting of trends in global connectivity and other emerging technologies. From offices in North America, Europe and Asia, ABI Research's worldwide team of experts advises thousands of decision makers through 70+ research and advisory services. Est. 1990. For more information visit www.abiresearch.com, or call +1.516.624.2500.
About ABI Research
ABI Research is a global technology intelligence firm delivering actionable research and strategic guidance to technology leaders, innovators, and decision makers around the world. Our research focuses on the transformative technologies that are dramatically reshaping industries, economies, and workforces today.
ABI Research提供开创性的研究和战略指导,帮助客户了解日新月异的技术。 自1990年以来,我们已与全球数百个领先的技术品牌,尖端公司,具有远见的政府机构以及创新的贸易团体建立了合作关系。 我们帮助客户创造真实的业务成果。
For more information about ABI Research's services, contact us at +1.516.624.2500 in the Americas, +44.203.326.0140 in Europe, +65.6592.0290 in Asia-Pacific, or visit www.abiresearch.com.