ABI Research's Device Portal sales channel analysis reveals tough times are ahead for smartphone vendors, as the balance of power remains with Samsung/Android and Apple. The smartphone market is entering a new, more mature stage in its growth, where execution rules over innovation and Samsung is dominating the sales channel with more than double the number devices on offer than any other vendor across the 13 markets and multiple online retailers studied.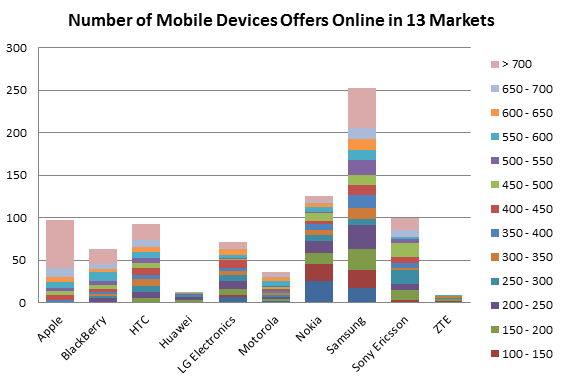 Nick Spencer, senior practice director, ABI Research said: "ABI Research's Device Portal analysis showed that Samsung is dominating the sales channel at nearly every price point, with only Apple challenging Samsung at the high end of the market. This leaves little room for the other vendors to compete, especially the other Android vendors and those using uncompetitive operating system ecosystems. Despite some carrier's efforts to create a more balanced smartphone device vendor industry with their use of subsidy, ultimately they are obliged to fulfill consumer demand and at the moment that means Samsung/Android and Apple."
Spencer went on to add, "The balance of power looks set to remain with Apple and Samsung for the foreseeable future. The course of the smartphone market is looking increasingly set as it enters a more mature stage on the current innovation curve. This is bad news for the players vying for the third ecosystem position."
These findings are part of ABI Research's Device Portal and Mobile Carrier Strategies and Mobile Handset Go-to-market Strategies Research Services.
ABI Research provides in-depth analysis and quantitative forecasting of trends in global connectivity and other emerging technologies. From offices in North America, Europe and Asia, ABI Research's worldwide team of experts advises thousands of decision makers through 70+ research and advisory services. Est. 1990. For more information visit www.abiresearch.com, or call +1.516.624.2500.
About ABI Research
ABI Research is a global technology intelligence firm delivering actionable research and strategic guidance to technology leaders, innovators, and decision makers around the world. Our research focuses on the transformative technologies that are dramatically reshaping industries, economies, and workforces today.
ABI Research提供开创性的研究和战略指导,帮助客户了解日新月异的技术。 自1990年以来,我们已与全球数百个领先的技术品牌,尖端公司,具有远见的政府机构以及创新的贸易团体建立了合作关系。 我们帮助客户创造真实的业务成果。
For more information about ABI Research's services, contact us at +1.516.624.2500 in the Americas, +44.203.326.0140 in Europe, +65.6592.0290 in Asia-Pacific, or visit www.abiresearch.com.