Accelerometers, gyroscopes, NFC, and gesture recognition are predicted to be the big winners in mobile devices. These mobile technologies are projected to make the greatest penetration gains over the coming years, according to a recent study by market intelligence firm ABI Research.
"Hands-free operation or gesture recognition is soon going to become a key differentiator in high-end flagship smartphones, media tablets, and smart glasses," says senior analyst Joshua Flood. "Samsung's latest Galaxy S4 has already incorporated the technology within its handset and has received significant plaudits for its new innovative user experience. Furthermore, with a host of new smart glass products soon to be released, it is easy to imagine the usefulness of the interface with this product." In 2013, almost 12% of smartphones shipped will have vision-based gesture recognition capabilities.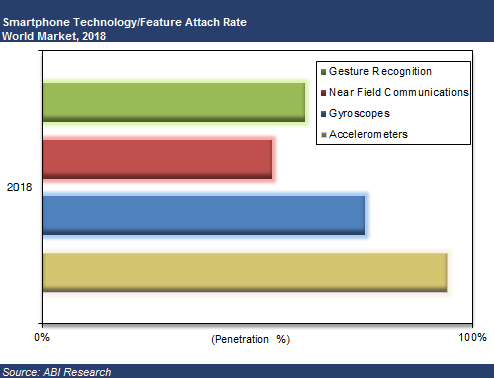 Accelerometers and gyroscopes play a crucial role with today's mobile devices, enabling devices to be more intuitive and take action without a user pressing a button. Simple actions like switching from portrait to landscape when a smartphone is tilted are made possible by including these components. Additionally, the fast growing mobile gaming market is highly dependent upon smartphones including gyroscopes, which enhance gaming experience. Nearly half of the smartphones shipped this year will include these MEMS sensor types.
NFC has been one of the most talked about mobile technologies that has not quite taken off. The technology has primarily been focused around mobile payments; however, mobile OEMs have begun to see other potential capabilities for the technology such as photo-sharing and location information tag points that could open a huge market for advertising and marketing campaigns. Within three years, it is anticipated one in two smartphones shipped will include NFC and have gesture recognition capabilities. Furthermore, accelerometers and gyroscopes will be the "norm" with most smartphones.
These findings are part of ABI Research's Next Generation Mobile Devices and Mobile Handset Go-to-market Strategies Research Services.
ABI Research provides in-depth analysis and quantitative forecasting of trends in global connectivity and other emerging technologies. From offices in North America, Europe and Asia, ABI Research's worldwide team of experts advises thousands of decision makers through 70+ research and advisory services. Est. 1990. For more information visit www.abiresearch.com, or call +1.516.624.2500.
About ABI Research
ABI Research is a global technology intelligence firm delivering actionable research and strategic guidance to technology leaders, innovators, and decision makers around the world. Our research focuses on the transformative technologies that are dramatically reshaping industries, economies, and workforces today.
ABI Research提供开创性的研究和战略指导,帮助客户了解日新月异的技术。 自1990年以来,我们已与全球数百个领先的技术品牌,尖端公司,具有远见的政府机构以及创新的贸易团体建立了合作关系。 我们帮助客户创造真实的业务成果。
For more information about ABI Research's services, contact us at +1.516.624.2500 in the Americas, +44.203.326.0140 in Europe, +65.6592.0290 in Asia-Pacific, or visit www.abiresearch.com.