iRobot, Husqvarna, and Maytronics Lead Respective Segments in Robotic Home Care / Lawn Care Marketplace
Oyster Bay, New York - 18 Feb 2015
Floor care products are the runaway market share leader among consumer oriented robotic home care / lawn care solutions, exceeding other classes of products such as robotic lawn mowers and pool cleaners by a wide margin. This dominance will continue into 2019 with several companies such as iRobot, Samsung, LG, Neato and Sharp staking their claims in the market. Providers of robotic home care solutions include both large, established companies, as well as smaller, entrepreneurial firms.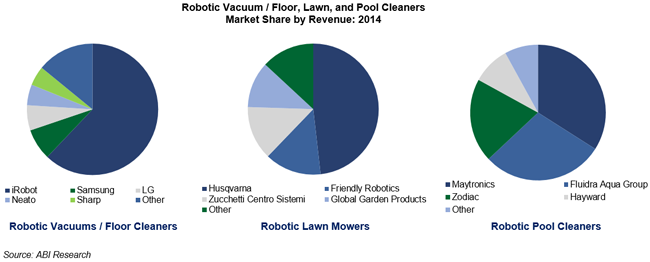 According to Dan Kara, Practice Director, Robotics at ABI Research, "Husqvarna and Maytronics were widely known and respected brands before launching their robotics products, and this has, perhaps, contributed to their market success. iRobot largely invented the robotic vacuum cleaner market; mindshare equates to market share, and vice versa."
"Purchases of robotic home care products, especially vacuums, are no longer limited to technophiles or holiday impulse buying. The technology has mainstreamed. The total addressable robotic home care marketplace is quite large, mostly unsaturated, and in some cases essentially unaddressed. The overall robotic home care opportunity is massive," adds Kara.
This report is part of ABI Research's Robotics, Automation and Intelligent Systems Market Research. This service offers informed and actionable quantitative research and qualitative analysis to solution providers and end-users so that they may increase opportunities and minimize risk when employing robotics and intelligent systems technologies to develop entirely new markets and product categories, and enhance existing product lines.
ABI Research provides in-depth analysis and quantitative forecasting of trends in global connectivity and other emerging technologies. From offices in North America, Europe and Asia, ABI Research's worldwide team of experts advises thousands of decision makers through 70+ research and advisory services. Est. 1990. For more information visit www.abiresearch.com, or call +1.516.624.2500.