ABI Research has verified that Intel has a leading position in the mobile processor technology race; launching the first 22nm mobile application processor. The 22nm quad-core application processor (Intel Z3740D) was found in a Dell tablet that was recently launched for the Christmas season.
Jim Mielke, VP of engineering at ABI Research, comments, "2013 saw a number of new processor launches with 32nm and 28nm technology (most from fabless companies) but Intel has used one of its core advantages (process technology) to pass them all." The 22nm process node used for the Z3740D is not just the smallest geometry in a mobile device today; it also introduces a new transistor. The core transistor structure used in the 22nm Z3740D is quite different than structures used in previous generations. The core transistor found in the device ABI Research analyzed (pictured below) has a gate that surrounds source/drain diffusion fins on three sides giving it the name tri-gate or 3D transistor.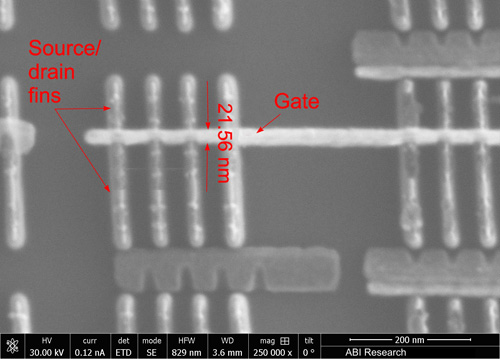 The introduction of the 1.86GHz processor in a Dell product also hints to Dell renewing its commitment to the tablet market. Being first to introduce products with leading edge technology, like the Z3740D 22nm processor, is a good start for the company. Key sensors and interface devices found in the tablet included Knowles MEMS microphones, STM sensors and sensor hub, and Synaptics touch screen controller.
These findings are part of ABI Research's Teardown Services. A complete teardown of the Dell Tablet with the Intel Z3740D and accompanying chips is available from ABI Research. The full teardown includes a complete bill of materials with cost estimates, high resolution dismantling and board photos, performance benchmarks, current drain measurements, a block diagram, component die photos and x-rays, and polysilicon photos of key devices.
ABI Research provides in-depth analysis and quantitative forecasting of trends in global connectivity and other emerging technologies. From offices in North America, Europe and Asia, ABI Research's worldwide team of experts advises thousands of decision makers through 70+ research and advisory services. Est. 1990. For more information visit www.abiresearch.com, or call +1.516.624.2500.
About ABI Research
ABI Research is a global technology intelligence firm delivering actionable research and strategic guidance to technology leaders, innovators, and decision makers around the world. Our research focuses on the transformative technologies that are dramatically reshaping industries, economies, and workforces today.
ABI Research提供开创性的研究和战略指导,帮助客户了解日新月异的技术。 自1990年以来,我们已与全球数百个领先的技术品牌,尖端公司,具有远见的政府机构以及创新的贸易团体建立了合作关系。 我们帮助客户创造真实的业务成果。
For more information about ABI Research's services, contact us at +1.516.624.2500 in the Americas, +44.203.326.0140 in Europe, +65.6592.0290 in Asia-Pacific, or visit www.abiresearch.com.