Deconstructing the new Apple watch is not a game for amateurs. ABI Research's TeardownIQ reveals a design centered on a custom Apple Processor (APL 0778) but includes Broadcom (BCM43342), Dialog PMU, NXP (NFC controller), and AMS (NFC booster) connectivity, IDT wireless charger receiver, Elpida RAM, SanDisk / Toshiba Flash memory, STM sensors, and a couple ADI capacitive touch solutions.
"The design is an obvious variation from Apple's smartphones, with many high-end functions / chips included that normally would not be found in a simple watch," comments Jim Mielke, VP Engineering at ABI Research and head of the TeardownIQ group. "Judging by the complexity of the printed circuit board (PCB), and the number of parts on the PCB, one might think the Apple watch is a full-fledged cellular connected watch but in fact connectivity is limited to Wi-Fi, Bluetooth, and NFC."
A few of key surprises in the design are two touch controller design wins for ADI, and the IDT wireless charging receiver. ADI has not seen a lot of design wins in mobile devices over the last 3 to 5 years but it seems to have a new focus as it has shown up in this Apple design and its sensors were revealed in a few other very recent teardowns.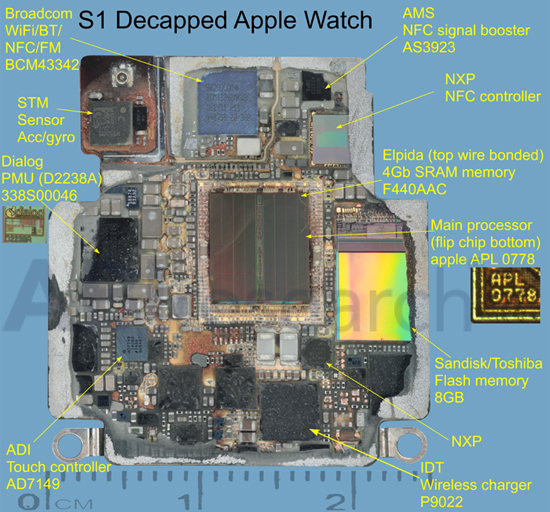 First Look At Apple Watch PCB
These findings are part of ABI Research's Teardowns Market Research, which includes Parts Lists, High-Res Photos, and Power and Performance Testing for the Apple Watch.
ABI Research provides technology market research and technology intelligence for industry innovators. From offices in North America, Europe and Asia, ABI Research's worldwide team of experts advises thousands of decision makers through 70+ research and advisory services. Est. 1990. For more information visit www.abiresearch.com, or call +1.516.624.2500.
About ABI Research
ABI Research is a global technology intelligence firm delivering actionable research and strategic guidance to technology leaders, innovators, and decision makers around the world. Our research focuses on the transformative technologies that are dramatically reshaping industries, economies, and workforces today.
ABI Research提供开创性的研究和战略指导,帮助客户了解日新月异的技术。 自1990年以来,我们已与全球数百个领先的技术品牌,尖端公司,具有远见的政府机构以及创新的贸易团体建立了合作关系。 我们帮助客户创造真实的业务成果。
For more information about ABI Research's services, contact us at +1.516.624.2500 in the Americas, +44.203.326.0140 in Europe, +65.6592.0290 in Asia-Pacific, or visit www.abiresearch.com.