BlackBerry QNX, one of the primary developers of Real-Time Operating Systems (RTOS) for both the automotive and healthcare markets, is looking to bolster its presence in the industrial robotics space.
Registered users can unlock up to five pieces of premium content each month.
| | |
| --- | --- |
| The Importance of RTOS in Robotics | NEWS |
---
BlackBerry QNX, one of the primary developers of Real-Time Operating Systems (RTOS) for both the automotive and healthcare markets, is looking to bolster its presence in the industrial robotics space. It joins a number of proprietary RTOS vendors, including Green Hills and Wind River, in trying to enable robotic systems with functional safety to meet the ever more challenging use cases being placed upon them.
RTOS are critical for internal communication within the embedded systems of modern robotics. Every robot has a number of low functions related to the internal workings and safety of the system. An example of this is emergency braking. While the compute-intensive work like path planning is managed by one operating system, specialist software in the form of an RTOS is essential for mission-critical communications where failure could result in injury, damage, or loss of life. As the internal computing architecture becomes more sophisticated and centralized around robot-specific Systems-on-a-Chip (SoC), many RTOS vendors, including QNX, are developing hypervisors to provide virtualization solutions. Such software design enables distributed computing architectures with multiple microcontrollers to be homogenized into shared hardware for reasons of efficiency. In addition, the use of a certified OS and hypervisor can help robotics vendors accelerate their go-to-market by leveraging the risk and hazard analysis that is already completed for the OS, as well as using the safety manual to develop applications within the safety limitations of the OS.
The latter is crucial as more and more enterprises start to adopt robotics solutions. The need for functional safety will increase and more importance will be placed on what an RTOS can provide robotics vendors in terms of robotics safety. ABI Research believes this will result in hypervisors adopted more commonly throughout the robotics industry. A diagram of a hypervisor's role in the wider technology stack can be seen below: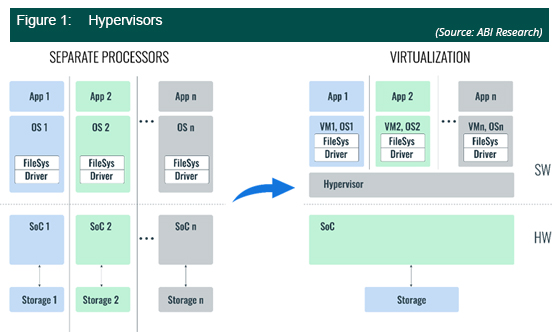 | | |
| --- | --- |
| Fixed and Mobile Vendors Have Different Approaches | IMPACT |
---
Currently, there is a division in the industrial robotics industry regarding RTOS adoption. The established vendors in fixed robotics like Comau, ABB, and FANUC are utilizing proprietary RTOS from VxWorks, but mobile robot vendors are generally utilizing open-source solutions. The most available version of this is FreeRTOS, an open-source framework that was developed by the Massachusetts Institute of Technology and has recently been acquired by Amazon. Currently, 81% of installed commercial robots are fixed industrial systems, and so proprietary solutions are already common. But by 2030, 61% of the installed commercial robots will be mobile, with 16 million expected across all industries. Some of these will have limited need for RTOS due to low latency demands and a lack of mission-criticality, but a large proportion of these systems will be operating in outdoor environments and be working around the public. They will need levels of safety certification similar to automotive products and will begin to adopt proprietary solutions like QNX to a greater degree. A caveat to this is that open-source Linux-based solutions could become certified. Overall, there is already partnership and synergy between open-source and proprietary RTOS solutions, and this will apply to robotics as well.
| | |
| --- | --- |
| Open-Source and Proprietary: Rivals or Complementary? | RECOMMENDATIONS |
---
The reason behind the choice of AGV and AMR vendors to prioritize open-source options is largely down to expediency. Royalties for proprietary software can start at US$60,000 for initial payments. For smaller vendors, such costs are seen to be prohibitive, and as they develop, they remain with open-source RTOS for non-mission-critical communications. For safety and mission-critical communications, mobile robot vendors rely on the PLCs based in individual sensors like LiDAR and Inertial Measurement Units (IMUs). This approach currently meets the necessary standard, but this could be about to change due to three reasons:
Increased Regulatory Focus: IEC 61508 is the current regulation around internal communications between microcontrollers, sensors, and the motherboard. As robots are expected to complete more challenges, there may be revisions that demand a more rigorous RTOS for functional safety.
Increased Compute Processing and Data Volume: Robots are increasingly reliant on sending and storing large amounts of data from and in embedded systems. This data requires orchestration between safety-critical and non-safety-critical information, which requires hypervisors like those by companies such as QNX.
Compute Centralization: Distributed computing architectures built on individual microcontrollers and PLCs have drawbacks in terms of latency. The global chip shortage is also pushing vendors to consider more centralized architectures built on computing platforms offered by the likes of Nvidia and Qualcomm. Proprietary hypervisors can orchestrate mixed-criticality communications on a single SoC, making compute centralization more achievable.
Lastly, open-source options also involve hidden costs. This can include the time it takes for internal engineers to redeploy the kernel for their particular product. When it comes to moving outside and beginning to operate in and around the general public, proprietary offerings are going to become essential for AMR vendors to consider. Proprietary vendors offer packaged and certified products that will be aligned for safety-critical applications.
The future landscape of RTOS in robotics could well follow the same pattern as the automotive space, where proprietary RTOS has to share more of the software stack with open-source offerings from Android and Linux but retains a critical role for mission-critical applications like braking. At the same time, mobile robot developers may find the hidden costs of retrofitting open-source solutions and incurring the costs of forking could turn them towards proprietary solutions like those of BlackBerry QNX. In conclusion, for RTOS vendors to remain successful in robotics, ABI Research believes that RTOS vendors will need to show they can help enable applications that are beyond the bounds of current regulations, including high-payload collaboration, some mobile manipulation use cases, and taking the robots outside with higher speeds.