Sarju Vasavada
Research Focus
Sarju Vasavada, Industry Analyst at ABI Research, conducts research regarding digital transformation, artificial intelligence (AI) and related technologies, telco cloud platforms, and telco software and applications.
Experience
Prior to joining ABI Research, Sarju was a Quantitative Financial Analyst for Greensky Trade Credit where he developed, analyzed, and validated credit risk models on retail products using advanced statistical methodologies. There he performed financial modeling and forward forecasts regarding critical risk metrics for company and bank partners' portfolio performance. He also held a position as an Analyst for the Yellow Pages.
Education
Sarju has a B.S. in Electrical Engineering from the Georgia Institute of Technology where he graduated with Honors. Moreover, he received a M.S. in Economics, as well as a M.S. in Statistics from the Georgia Institute of Technology.
Sarju Vasavada in the News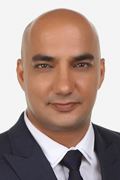 Sarju Vasavada
Industry Analyst
Location
Singapore
Topics Covered
Digital Transformation, Artificial Intelligence, Telco Cloud Platforms, Telco Software
Contributes To