Samuel McLaughlin
Research Focus
Samuel McLaughlin, Research Analyst at ABI Research, provides research analysis and data forecasts for location technologies, with coverage areas including indoor location systems, Bluetooth beacons, and GNSS.
Past Experience
Samuel previously worked in the automotive industry as a hardware engineer.
Education
Samuel earned his Master's in Mechatronic Systems from the Augsburg University of Applied Sciences and Master of Engineering in Electronic Engineering, with first class honors, from Ulster University.
Samuel McLaughlin in the News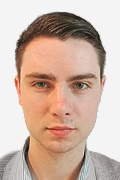 Samuel McLaughlin
Research Analyst
Location
London, U.K.
Follow Samuel
Topics Covered
Location Technologies, Indoor Location Systems, Bluetooth Beacons, GNSS
Contributes To