Prayerna Raina
Research Focus
Prayerna Raina, Senior Analyst at ABI Research, orchestrates research regarding the telco wireless access network focusing on 4G and 5G networks. Her research areas include tracking cellular subscriptions and 4G to 5G network transition.
Past Experience
Prior to joining ABI Research, Prayerna worked as an Industry Analyst at Strategy Analytics in the connected home devices area, where she was responsible for developing product shipment forecasts, monitoring market trends, and authoring insights and research reports. Her experience also includes about four years as a telco analyst at Frost & Sullivan researching different telco infrastructure segments such as service provider switch/routers and wireless backhaul products.
Education
Prayerna earned a Master's degree in in Engineering Management from the Florida Institute of Technology in Florida.
Blogs by Prayerna Raina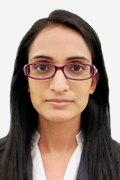 Prayerna Raina
Senior Analyst
Location
Texas, U.S.
Topics Covered
Cellular Subscription Tracking, 4G to 5G Network Transition
Contributes To